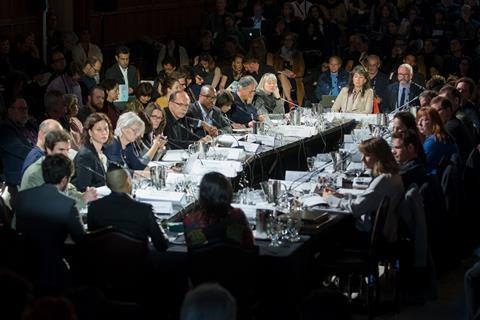 Hot Docs has announced its CAD $2M financing initiative Hot Docs Partners, which will connect Canadian and international feature documentary projects with private investors over the next three years.
Toronto-based Blue Ice Docs is the lead investor and has committed to matching investments made by other investors. Hot Docs' industry programmes director Elizabeth Radshaw made the announcement on Tuesday (May 1) at the launch of the Hot Docs Forum.
Hot Docs' industry team, led by Radshaw, will evaluate and recommend projects to Hot Docs Partners investors based on projects' individual needs. Once partnered, Hot Docs will continue to work with the filmmakers throughout production, release, and distribution.
"Launching Hot Docs Partners is an important milestone in Hot Docs' continued evolution as an organization that supports filmmakers," president of Hot Docs Chris McDonald said. "Making documentaries is a challenging career and our filmmakers need all the help we can provide. Matching their projects with a community of doc-loving and socially conscious investors is an exciting new initiative, and we recognise Blue Ice Docs and all Hot Docs Partners participants for their robust vision and support."
"Hot Docs Partners affords us another welcome opportunity to partner with the Hot Docs team to ensure that outstanding, meaningful and entertaining documentaries continue to get made," co-owner and director of Blue Ice Docs Neil Tabatznik added.
Hot Docs Partners is the latest initiative Hot Docs has taken on to connect documentary filmmakers with investment support. Last year, with the launch of the first look programme, private investors attended the Hot Docs Forum and awarded CAD $100,000 to top pitch projects. The first-look programme will return to the Forum this year with CAD $125,000 in total prize money for selected projects. Hot Docs runs until May 6.