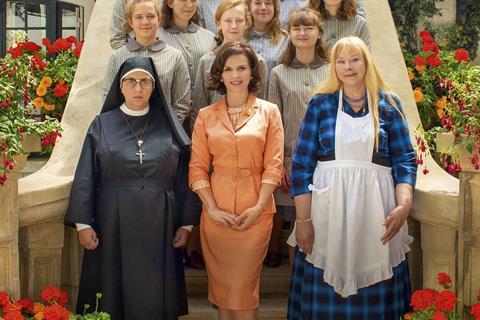 Martin Provost's comedy drama How To Be A Good Wife topped the box office chart in France on Monday (June 22), the first day of cinema theatres opening after a 14-week hiatus due to the country's Covid-19 lockdown.
According to figures provided by distributor Memento Distribution, the film drew some 20,000 spectators across 600 screens, which is equivalent to a box office of around $154,000.
Biopic De Gaulle came in second for SND with around 10,000 admissions, for a box office of close to $68,000.
Memento Distribution chief Alexandre Mallet-Guy told Screen that the How To Be A Good Wife release will now expand to 1,000 screens by Wednesday as more cinemas progressively open their doors.
There are 2,045 theatres in France encompassing 6,114 screens, according to National Cinema Centre (CNC) 2019 statistics.
How To Be A Good Wife and De Gaulle were among around a dozen titles put back into cinemas on Monday, after their releases were disrupted when cinemas were ordered to close on March 14 as part of the country's lockdown measures to stop the spread of coronavirus.
Other re-releases included Universal's The Invisible Man, Disney's Onwards and Call Of The Wild, Paramount's Sonic The Hedgehog, and French production A Mermaid In Paris for Sony Pictures Releasing for the studios.
French distributor re-releases ranged from Studiocanal's Marie Curie biopic Radioactive and comedy 10 Days Without Mum to comedy Papi Sitter (Gaumont), Tunisian family drama A Son (Jour2Fête), Korean animation A Dog's Courage (The Jokers) and Working Girls (KMBO). New titles included Mr. Jones (Condor Distribution), which had been poised to come out as cinemas went dark.
Another handful of new titles and re-releases are expected to hit cinemas on Wednesday (June 24), which is the day release programmes are traditionally updated in France.
"It's a relief," said Mallet-Guy. "We really weren't sure if and in what numbers spectators would come back. Apart from the fact the virus has not been completely eradicated, even if it's under control, it's beautiful weather here in France."
How To Be A Good Wife was one of Memento's most ambitious releases ever when it came out on March 11 on some 600 screens, for which the company was aiming for 1.5 to two million spectators.
It drew 170,000 spectators, for a $1.3m gross, in just four days before cinemas shut, with the box office already impacted by fears over the virus.
*As France reports box office in admissions, Screen has reached the dollar gross by multiplying the number of admissions by the average ticket price, according to the FNCF of €6.79.