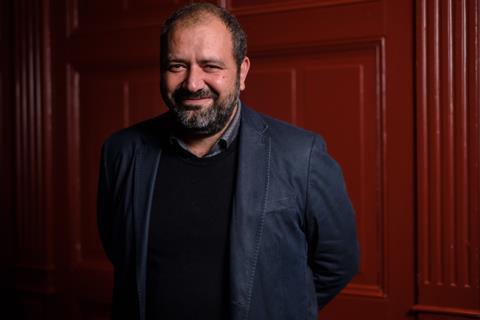 Orwa Nyrabia, artistic director of International Documentary Film Festival Amsterdam (IDFA) has given details of how the organisers are planning to go full steam ahead with one of the largest documentary festivals in the world in a city which is now under partial lockdown in an effort to stem rising cases of Covid-19.
IDFA opens on Wednesday, November 17 and runs until November 28. As of today (November 15), a bullish Nyrabia confirmed less than 1% of the expected over 2,000 industry delegates and filmmakers have cancelled their trips.
"As of this moment, we have 22 persons cancelled that we know of. This is 22 out of 2300," Nyrabia said.
Under the new lockdown rules, bars and restaurants have to close by 20.00 but cinemas and theatres can stay open. This has raised the intriguing possibility that the lockdown could actually boost attendances at IDFA screenings. With restaurants closed and no parties happening after hours, the one activity that delegates will be allowed to continue to indulge in legitimately after 20:00 CET is going to the films.
It is not yet clear, though, whether cinemas will be allowed to sell refreshments after 20:00 CET.
Ticket sales are running at around two-thirds of the 2019 level, the last time the event was held physically, which is higher than organisers had expected.
One change because of the partial lockdown is that no "standing up" social events will be allowed. This will obviously impact the networking which is a huge part of IDFA's industry and social events.
There is also a cap on occupancy which has been put at 1,250 people per venue - but this will not affect any of the screenings or talks. "We are no way coming near that," Nyrabia said.
He confirmed that the occupancy rate at the Forum - IDFA's main industry event - will be reduced to 70% (instead of the 80% originally planned) There will be Covid QR code checks at every entrance to every industry venue and delegates will all be requested to stay in masks "all the time unless they are eating or speaking on microphones".
The Forum will organise live streaming facilities for delegates who cannot fit into the main venue.
Guests Meet Guests, the huge nightly social event that IDFA usually stages, has had to be tweaked. "It will not be a big massive cocktail party with the big numbers we usually see. It will be spread in three different parallel venues where people will have the space to meet each other and to eat or drink but over a longer slot of time," Nyrabia said.
The events will last for several hours in a more "club-like" atmosphere.
"Cancelling would have a high toll"
Nyrabia said the decision to go ahead with the festival came in direct response to what documentary delegates wanted. "The prevailing opinion was that cancelling would have a very high toll on the whole of the industry," Nyrabia said. "That was something we heard clearly from the key players in this industry.
"It is also about all of coming together and trying to prove that we can all be responsible enough and run this safety, better than cancelling it and staying at home.
"People who work in this industry are not so comfortable financially to drop all of this money they have paid to come to IDFA. We feel responsible towards them," he continued. "It might be way easier for a robust organisation like IDFA to say we are cancelling this and that…it's much easier for us. But it's not fair for all of those people who wait for this moment of coming back. This is livelihoods and dreams of filmmakers."
Some IDFA delegates have been reporting travel issues because of new Covid regulations. For example, it is currently difficult for Austrians to travel to the Netherlands by train as this requires going through Germany which has extended its travel restrictions and put neighbouring Austria on its watchlist.
However, visitors planning to come to the festival are in philosophical mood about what an IDFA under lockdown might entail.
"I think it will be a somewhat subdued festival and we'll all get enough sleep, which is a grandiose new normal," suggested Esther van Messel, founder and CEO of leading distribution-sales outfit First Hand Films.