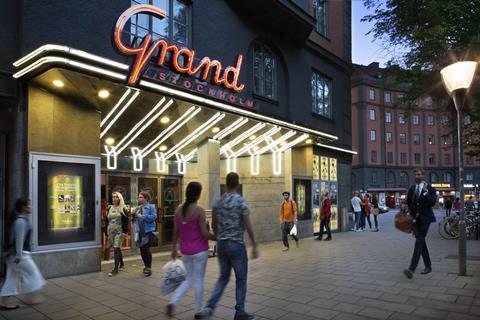 With Sweden's anti-lockdown approach and other Nordic territories set to re-open venues earlier than other parts of the world, the international film industry can look to the Nordics for examples of how to bounce back from the Covid-19 pandemic.
Peter Fornstam, founder and managing director of Sweden's second-largest cinema chain, Svenska Bio, kept all of his 35 cinemas open until Easter. After the public holiday, Svenska Bio's two Stockholm sites – the Grand and Victoria (with a total of 12 screens) – remained open and showing recent but not new films including Parasite, Cunningham, Queen & Slim, And Then We Danced and Corpus Christi.
Meanwhile, Svenska Bio's other 33 cinemas are open for "Bio On Demand" – not an online platform but an offer for audience members to rent a whole screen and invite friends and family to watch a film already on the cinema's server.
"A lot of people want to book the cinema first and the movie secondly," said Fornstam. "It's anything to get out of the house, and gathering a few friends to do something social together."
One 10th birthday party screened Pixar's Onwards, for instance, while other rentals have included groups of gamers who play games on the big screen. Bio On Demand has become very popular, due in part to social media buzz, and reported 60 bookings this past weekend at those 12 screens in Stockholm.
Prices range from $95-$115 (SEK 960-1160) for up to16 people, while gamers pay $100 (SEK 1000) for the first two hours and $45 (SEK 450) per subsequent hour.
"We try to be creative in a tough situation, and it's also a way to keep our staff motivated," said Fornstam. "Plus, the reopening phase will be less difficult if you've never closed."
The exhibition executive hopes the other 33 sites in Sweden can reopen in July, especially if Christopher Nolan's Tenet can retain its July 17 launch date via Warner Bros. "For the studios to make those decisions, it's really going to be about how the rest of the world looks by then," added Fornstam. "One would think Chinese cinemas would be open by then, since they were ahead of the curve. None of us created this situation. We're just trying to get through it without getting too battered and bruised."
Sweden's largest exhibitor is AMC-owned Filmstaden, with 65% of the market, which closed all its cinemas on March 12 in line with AMC's decision to shutter its venues around the world.
However, some independent cinemas have stayed open including Folkets Bio's Zita cinema and Bio Capitol, both in Stockholm.
Jakob Abrahamsson, one of the partners who renovated Bio Capitol in 2018, noted that the venue "never closed". "There is a maximum of 50 people in one screening room, and people have to keep distance in the foyer and in the bistro," he explained. "We've also part-time furloughed staff and let a few probationary employees go. No fun, of course, but we had to bring all costs down radically."
Even with safety measures, the majority of the audience has stayed away. Box office in Sweden across the last weekend of April was just over $30,000 compared to grosses of around $840,000 on the equivalent weekend in 2019. "Most people are cautious and many choose to stay home, especially 70-plus people like my parents who normally consume a lot of culture," said Abrahamsson.
Similar to Svenska Bio, Abrahamsson has tried to help the cinema's finances by renting out cinema screens to groups of friends or gamers (known as 'jukebox cinema') and offering themed takeaway food from the cinema's bistro as well as selling gift cards and memberships.
Abrahamsson is also CEO of distributor NonStop Entertainment, which is launching Pablo Larrain's Ema on May 8 including regular bookings at cinemas that are open or offering cinemas the option to host a VoD player on their sites and split the revenues. The film was also part of streamer Mubi's new digital preview scheme, making it free for Mubi subscribers to screen on May 1.
Abrahamsson cautioned that the virus crisis will have a lasting impact on theatrical windows among other elements. "I think the corona crisis is accelerating a lot of trends we've seen lately," he added. "The shift to streaming; the need to evolve as a theatrical distributor with top tech screens – LED, curved, immersive, etc – and with a catered, grown-up approach.
"Not the collapse of the windowing per se, but I do think we are going to see some thought-through changes here where blockbusters will work with traditional windows and we'll see a whole lot more of the Curzon or Magnolia/A24/IFC way of doing things with specialised film in curated windowing."
Danish exhibitor expresses caution
All Danish cinemas, comprising 169 sites with 484 screens, have been shut since a partial lockdown was announced by the government on March 12.
Kim Foss, who runs Copenhagen's Grand Teatret, said he had sent the majority of his staff home from that date, with strict orders not to work. "Those are the conditions for receiving support for part of the salaries from the government. We are also receiving partial coverage of expenses."
Adding a note of warning, Foss said: "Despite the support, we are still bleeding. Nonetheless, I'd much prefer to re-open later and in a situation with less restrictions – and a less fearful audience."
The Danish government will update its lockdown policy on May 11 but Foss said he doubted cinemas will be compelled to open at that time. "I fear an early start will be much worse than staying closed. It will be like pissing in your pants to stay warm, as the proverb goes."
Foss is also a distributor, running arthouse label Camera Film. He is disappointed in MEDIA/Creative Europe's lack of response to distributors to date. "I have proposed that the Danish Film Institute work on an extra support scheme for films bought, but not released, before the crisis," he noted.
"We will be looking at a totally different market where just recouping your P&A will be a pipe dream. And what we have realised these past weeks is that streaming is a wonderful way of making your films accessible but for arthouse films the economy is nothing to speak of. Streaming delivers the icing on the cake. Except there is no cake at the moment so theatrical is king.
"I think everybody knows that a film skewed towards a younger audience stands a better chance of selling tickets than the usual arthouse fare aimed at the older demographic – the very same people who have been told over and over again that they are in the epicentre of the danger zone. I usually say that the older, culturally alert ladies are paying my wages. It will take time to get them back in the seats so I fear the aftermath even more than the lockdown."
Norwegian cinemas prepare to reopen
In Norway, cinemas can reopen on May 7 after shutting on March 12 in the country's partial lockdown. Audiences will be limited to 50 people per screen, with a minimum of one meter separating each person. If virus levels remain manageable, authorities expect capacity in theatres will expand to 200 people per screen from June 15. There are 211 cinemas in Norway, with 438 screens.
The country also introduced an innovation that could inspire other territories: an indoor drive-in at the Telenor Arena, near Oslo.
The Filmweb Drive-in Kino has hosted nearly a month of sold-out screenings on an 18x7-metre screen, which can each accommodate 100 cars of up to five people, with each vehicle parked at least two metres apart. Sound was streamed through the car's radios.
Online platform Filmweb.no worked with cinema chains Nordisk Film Kino, Odeon Kino, Telenor Arena and Rema 1000 stores to launch the drive-in project, which screened films ranging from local hits to Parasite and Bloodshot. The arena can usually hold 25,000 audience members for concerts.
Iceland opens, Finland sets date
In Iceland, cinemas were permitted to reopen on May 4, with restrictions of up to 50 people per screen. However, just a handful of the country's 29 screens chose to reopen. The government will reassess the situation in late May.
Finnish cinemas will be allowed to resume business on June 1, when the government relaxes its ban on gatherings from 10 people to 50. (On May 6, the Finnish minister of culture announced on social media that events could allow up to 500 people if safety and social distancing measures are enforced, but it's not yet known if this would apply to cinemas.)
Government agencies will work with cinemas on restrictions, including hygiene, but those rules are not set yet.
Meanwhile, the Finnish Film Foundation has received an extra €1m pot of funding to "secure the future operation of cinemas nationwide and to ensure that the organisations responsible for film festivals can continue their activities".
This funding will be initially available to small and medium-sized cinemas as well as festivals that had to cancel or postpone between March 13 and May 31.