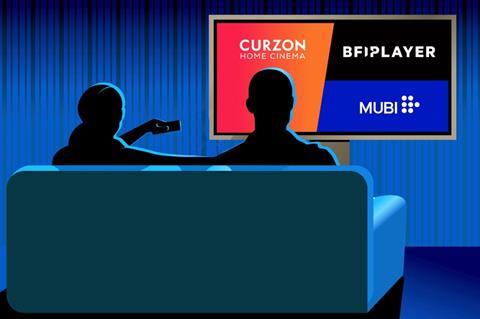 The UK release of independent, arthouse and foreign language films has been thrown into disarray following the closure of every cinema in the country as a result of the COVID-19 outbreak.
But streaming services such as Curzon Home Cinema, BFI Player and MUBI are throwing a lifeline to these titles and offering audiences the opportunity to support cinema at a time when it needs it most.
Even 10 years ago, this would not have been possible as widespread take-up of SVOD services had yet to occur and some of these smaller platforms simply did not exist. But now, with the infrastructure in place and an audience savvy to streaming, these players are pivoting to save releases that might otherwise have been decimated by this pandemic.
"In the short term, streaming platforms can offer a chance for smaller and medium-sized distributors to quickly find an outlet for their films," said Philip Knatchbull, CEO of Curzon, which closed its 13 cinemas alongside most other UK chains on March 17.
"Press and marketing plans are already in place and costs spent, so it makes sense to find a way for customers to watch those films now."
This has been the case with Haifaa Al Mansour's The Perfect Candidate, which was set to receive a theatrical release on March 27 but will now be made available digitally at that time on Curzon Home Cinema, BFI Player and via distributor Modern Films' own platform on the same date.
Similarly, Vertigo was set to give a March 27 theatrical release to Lorcan Finnegan's Vivarium, starring Imogen Poots and Jesse Eisenberg, but the sci-fi drama will now be available on that date across all major VOD platforms.
Curzon has also added Levan Akin's romantic drama And Then We Danced, Oliver Laxe's Fire Will Come and J-P Valkeapää's Dogs Don't Wear Pants, which were all due to receive theatrical releases.
"Our fantastic team is working on a number of initiatives to not just drive viewers towards Curzon Home Cinema but keep the magic of the collective viewing experience alive in this time where theatres are closed," added Katchbull.
This includes a live Q&A series where audiences are invited to watch films on the platform and then view an exclusive interview with the director, talking from their own personal isolation.
The series will launch on Friday (March 27) with the release of System Crasher, followed by an interview with director Nora Fingscheidt. Others will include Celine Sciamma (Portrait Of A Lady On Fire), Andrew Haigh (45 Years), Ruben Ostlund (Force Majeure) and Sebastian Schipper (Victoria).
Embracing live
Bringing the live experience to remote audiences is something the British Film Institute (BFI) has embraced following the last-minute cancellation of the BFI Flare: London LGBTIQ+ Film Festival, which was due to run March 18-29.
Instead, a raft of titles and live Q&As will be hosted on BFI Player and the festival's social media channels from March 20-29.
Edward Humphrey, director of digital at the BFI, told Screen: "There's been a Herculean effort in the past few days from all departments to switch from real-world to digital. We're working to create new promotional offers for our audiences, especially around BFI Flare.
"We're also trying to add as much new material to BFI Player as we can in a short timescale, a lot of which was not planned releases."
Humphrey said talks were ongoing with distributors as the industry adapts to the current reality. "We have lines of communication open with all the distributors as they try to rebuild their release plans. We hope to have more to say in the coming weeks as to how we'll help these films find an audience."
MUBI, which acts as both a streaming platform and distributor, has also had to shift its strategy following cinema closures. Its Cannes jury prize-winner Bacurau is receiving an early digital launch as a result and is also streaming on Curzon Home Cinema.
Jon Barrenechea, vice president of marketing at MUBI, said: "We decided to bring forward the release of Bacurau on MUBI (to March 19) in light of cinemas sadly closing in the UK and Ireland.
"For our other 2020 MUBI releases, we are reviewing plans… We're speaking to our cinema partners daily to work out how we can support each other over the coming weeks."
In addition, titles such as And Then We Danced and Mr. Jones are being made available across multiple platforms but this is normal for TVoD (transactional video- on- demand) titles, where exclusivity clauses are not enacted.
Breaking windows
However, not all are in agreement that breaking the theatrical window – even during a pandemic – is a good idea.
Europe's International Union of Cinemas (UNIC) issued a warning that releasing films early on streaming services may damage the future of the sector.
The trade body, which represents European cinema trade associations and operators, said in a statement: "With the financial impacts of this unprecedented crisis on our industry still not fully clear, now is not the time to seek short-term financial gains at the expense of the sector as a whole."
It added that releasing titles direct to VOD services during these closures "is not a development in the interest of either the sector or audiences" and added: "We must pull together so that, once these challenging times are behind us, the whole sector is in the best possible position to recover as soon as possible."
But digital service Festival Scope, which has a mainly industry focus but does offer some public access to world cinema titles, views this is an opportunity to reevaluate the theatrical window.
"Theatres and festivals remain the ideal place for cinephiles but it's important to offer alternatives and reach those who do not have access to a wide choice of independent films," said Festival Scope co-founder Mathilde Henrot.
"We hope for online screenings to not be seen as problematic or replacing physical screenings but co-existing and complementing each other. We hope that – if any changes come out of this – it is the further democratization of cinema."
While Curzon and MUBI reveal there has been a notable rise in registrations and purchases, there is widespread optimism this will not turn off audiences from the cinema-going experience.
"The film industry as a whole should be looking to creative ways to keep everything ticking over," said Knatchbull. "But we anticipate the re-opening of the nation's cinemas to be welcome and popular. In the meantime, we hope people discover lots of magnificent independent films online."
"I still think there will be a huge appetite to watch films in the cinema as well as at home once cinemas re-open," Barrenechea added. "The MUBI team will definitely be back watching films in cinemas as soon as we can."
"Audiences will return to cinemas with gusto once they re-open," said Humphrey. "In the meantime, I hope we can introduce the richness and breadth of BFI Player to a new audience and become a performant part of their film-watching lives – even after cinemas re-open."