The need for specialist courses is rising; how does this compare in France and Germany?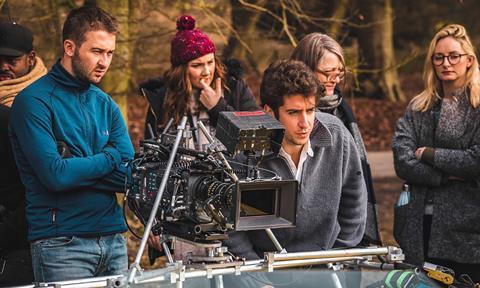 Click here to read more of Screen's European training focus
The UK film and TV industry is booming.
According to a recent British Film Institute (BFI) report, 2016 marked the highest recorded level of inward investment for film.
Production is at an all-time high, with studio space at a premium. For UK crews, the influx of big-budget Hollywood blockbusters and high-end TV shows is a boon. But one downside of so many productions is that there is often not enough below-the-line talent to go around, with major skills gaps in certain sectors.
"The pace of growth has led to a shortage at both new entrant and professional level in a number of different areas: production co-ordinators, production managers, line producers, assistant directors," says Dan Simmons, head of partnerships at Creative Skillset. "[Finding] production accountants has been an ongoing challenge, bringing people through."
To help with the latter, Creative Skillset supports the Assistant Accountant Training Programme run by the Production Guild. "It takes people from a junior accounting or a junior production background and puts them through a training programme and placements to help them move into production accounting roles," says Simmons.
Recent NFTS graduates working on a Bridges to Industry project. Photo credit: Ian Packard
"On the craft and technical side, there is also a variety of issues, including shortages in art departments. There is a challenge, but we are stepping up to it. It's about making sure we do it in as strategic and supportive a way as possible, working in partnership with the British Film Commission and other strategic bodies to get an even earlier indication of the skills gaps and shortages we might be facing."
Creative Skillset is taking its message into secondary schools. "We've created lots of careers content and short videos to go out to schools and careers advisers," says Simmons. And it is not alone in trying to tackle any perceived crew shortages.
The National Film and Television School (NFTS) has been developing specialist craft courses and training across a range of different areas for a while now, both part- and full-time.
"Our whole modus operandi is small numbers in very discrete and distinct areas. And in recent years we've gone into some of the areas that are less obvious," says NFTS deputy director Jon Wardle, who believes more specialist training is required than is on offer in the UK. "There's a lot of generalist training. A lot of other film schools do an MA in filmmaking, and you do a bit of editing, a bit of directing, but that doesn't give you a portfolio that's going to give you the job you need on graduation."
This January, in response to the production accountancy skills gap, the NFTS also launched a part-time, one-evening-per-week conversion course run by Natalie Moore, who was the production accountant on Christopher Nolan's Dunkirk.
"The history of production accounting has been, 'Who do you know?' Maybe your auntie or your uncle is a production accountant, so you get in," says Wardle. "[Our course] takes people who are already accountants, or have finance and accounting experience, and converts them into film and TV accountants."
A shared effort
Both Creative Skillset and NFTS regularly consult the industry to ascertain exactly which areas are lacking and which may be problematic. "There is some more formal ongoing research and lots of targeted outreach through the studios and all the big production hubs, talking to all the key funders of productions, tracking all the productions," says Simmons. "It's a shared effort across lots of the different agencies to make sure we pool our intelligence, see where the key demand is going to be and try to pre-empt that as much as we can."
"It's beholden on all providers, whether that's Creative Skillset, the BFI, to be talking with each other about what those gaps are," says Wardle. "To make sure we've got good information coming out of productions about where they're struggling, because those things change. It's not static. We're being quite proactive in developing very specialised provision to address the gaps and make a targeted response."
Historically, Creative Skillset has funded many different programmes to train new talent, including supporting short films and micro-budget features, and offers individual craft and technical bursaries as well as subsidies for training providers to deliver courses in priority areas, including hair, make-up, costume and camera. It is looking at production management programmes and line producer training in conjunction with the Production Guild and it is working on a new skills strategy with the BFI to be released over the coming months.
In addition, Creative Skillset has its Make A Move programme, which provides funding to productions seeking to step up crew to more senior posts.
"[Productions] can apply for funding for structured training, mentoring and support around that," says Simmons. "One of the challenges with the pace of growth is there is a lot of pressure on people to progress more rapidly than they would have which, sometimes, has resulted in people having stressful experiences, and, at worst, there's a risk of something going wrong."
Creative Skillset also runs an 18-month Trainee Finder Film scheme for people who have less than 12 months' professional experience. "The ambition being they'll get a couple of placements, build relationships, get some credits, then go off and work," says Simmons. "It's an ongoing programme and is going through a review again to make sure it's still relevant and fit for purpose."
Success stories
In the UK's current financial year, which ends on April 5, Creative Skillset has placed 158 people in various craft and technical roles, on films including Lady Macbeth, Ready Player One and Star Wars: The Last Jedi.
In total, the scheme has been responsible for 436 placements on 115 productions.
Successful alumni include Charlotte Hutchings, an art department trainee on Suffragette who went on to work on Esio Trot and Mortdecai, among others; Amanda McLaughlan, a costume trainee on Norfolk who's since worked on The Falling, Star Wars: The Force Awakens, Alice Through The Looking Glass, Miss Peregrine's Home For Peculiar Children and Justice League; and Thomas Barber, a camera trainee on 45 Years, who has gone on to work on Pride And Prejudice And Zombies, The Girl With All The Gifts and Churchill.
The NFTS is responding to the skills shortages by offering a variety of long and short courses including a diploma in production management and an MA in distribution and exhibition. In response to an already identified area of demand, the school started a course for assistant directors and floor managers last September.
"There are real problems getting first ADs at the moment," says Wardle. "And if there's no training, how do you then address that? It was shocking to me there was nowhere in the UK you could train to be an AD, which is pretty sad when it's such a key role. Maybe a couple of day courses from private training providers, but nothing substantive. We got together with the Assistant Directors Association and talked about what they needed."
Living the dream
What was needed was on-the-job training. "You can't really learn to be an assistant director unless you're standing on the floor and there are 55 other people waiting to know what to do, and they're looking to you to tell them," says Wardle. "The assistant directors will work in an assistant director capacity on at least four films during their time at NFTS with crews ranging from 20 to 60. What we wanted to do was bring people in who could hit the ground running as third ADs, and then move their way into either becoming a second or a first. These things are never a quick fix, but we would hope to see within two to three years the graduates of the courses really making an impact in those areas."
Looking ahead, the school has courses in the works for script supervisors and location managers, two areas of concern, with the script supervisors course to launch later this year. "That's likely to be a short, intensive burst, maybe a couple of months," says Wardle. "It's an exciting time because there's so much work and people see the benefit of learning and training. We're growing, not by taking lots more people on existing courses, [but] by adding new specialist pathways.
"What we need is people who can come out and be production accountants, production co-ordinators, production managers, first assistant cameras. We're able to start new provision in slightly more esoteric areas, because people are starting to think, 'That might be my route into film and TV. I can make a nice living as a production accountant or an AD, even if my dream was directing'."
Spain
Andalucia is in need of trained crew to work on HBO's Game Of Thrones. By Elisabet Cabeza.
Walt Disney and Lucasfilm's Han Solo is the latest big international production to be drawn to Spain's tax incentives and diverse natural and urban landscape — the Star Wars spin-off will shoot on the island of Fuerteventura later this year. As on other big shoots, such as Robert Zemeckis's Allied (which shot in Gran Canaria and Fuerteventura), local crews will likely be hired via service production companies. Producers also use the directories available through the national network of film commissions from Andalucia to each of the Canary Islands.
There is growing demand for Spanish craftspeople to service these incoming productions in nearly every department: location scouts, art directors, production assistants, sound and cinematography technicians, digital post-production and special effects, and hairdressers, make-up and costume-design artists are all needed. Several years ago, the governments of Gran Canaria and Tenerife launched specific training schemes aimed at the local workforce to meet the demand.
Additionally, there is a wider training scheme offered by the governments (known as cabildos) on the islands of Tenerife, Gran Canaria, Fuerteventura, Lanzarote and La Palma, which is also supported by the Canary Islands regional government. These courses and workshops take between one and two weeks and are designed to broaden the know-how of professionals already working in the industry and to help with their English.
Where HBO shoots Game Of Thrones in Andalucia, there is the need to find and train a greater number of location scouts, grips, production assistants and craftspeople in the hair, make-up and costume departments.
In the Balearic Islands, the film commission is organising a specialised educational session on eco-friendly shoots called 'Green Shooting', which is taking place March 27-28.
Germany
A host of initiatives is boosting skills in an industry where encouraging new blood is a priority. Martin Blaney reports.
The German film and television industry can draw on a highly qualified and motivated workforce thanks to an extensive network of film schools and media academies operating throughout the country. Formal training for the next generation of directors, producers, screenwriters and cinematographers is provided by such internationally respected institutions as Berlin's German Film & Television Academy, the Babelsberg Film University and the University of Television & Film in Munich, as well as the Film Academy Baden-Württemberg in Ludwigsburg and the Academy of Arts in Cologne.
In addition, non-profit training initiatives such as Filmhaus Babelsberg, Münchner Filmwerkstatt and Filmhaus Köln offer courses to people already working in the industry either as freelancers or in positions at production companies, or for broadcasters to acquire new skills in roles including assistant directors, production managers and editors.
Studio Babelsberg, Cologne's MMC Studios and Bavaria Film are among the production complexes offering apprenticeships or internships in their workshops and other divisions for those seeking to make a career for themselves in the film and TV industry. Studio Babelsberg's Art Department — which recently worked on Babylon Berlin, A Cure For Wellness and Captain America: Civil War — takes on 10 apprentices each year to work in the metal shop or carpentry workshop, or to become sculptors or artistic painters.
Internships are offered elsewhere on the studio lot at the props store, in the marketing department or at the studio's production services arm, Studio Babelsberg Motion Pictures. The various paths to the creation of a qualified workforce are motivated more by the specific needs of the German industry than from any conscious desire to attract international productions to Germany. At the same time, injecting new blood into the industry is one of the priorities of the German national and regional funds.
Producers are expected to guarantee on-the-job training for new entrants to the industry when a production financing application is made to a state or national fund. In North Rhine-Westphalia, the Film- und Medienstiftung NRW even restricts the pool of potential interns to those who have their first residence in that particular region.
"On most productions, producers provide a list of all planned production interns in different departments, including production management, production design, directing, location management on non-animated films," says producer Dirk Beinhold of Akkord Films.
Since film school students are usually too busy to work on larger productions that are not connected with their respective film school, the interns taken on by producers are often applicants to film schools, who require a certain amount of hands-on production experience to be considered by a school.