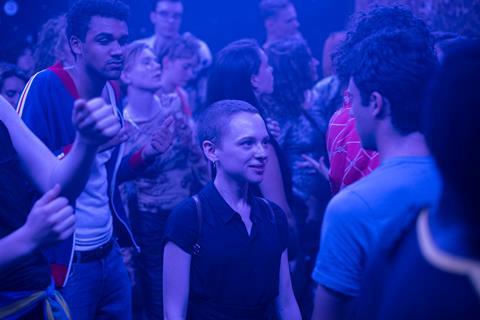 A producer on hit Netflix drama Unorthodox has revealed the intense hands-on process of the streaming giant, during a Sarajevo CineLink masterclass.
Watch the full session below.
The drama series marked the first Netflix project for Henning Kamm, producer at Berlin-based Real Film, which has become a word-of-mouth sensation and secured eight Emmy nominations.
But it also marked a learning process for Kamm, who outlined just how involved the streaming giant was throughout the production.
"If you work for a broadcaster and you do commissioned work, they have great influence into what you're doing based on the metrics that they have with audiences, and Netflix is more precise with all their data," he said.
"They are highly skilled people and super professional. It's not like you're doing a show for them, you're doing it with them. They are involved in the scripts, in the editing. For example, I've never had so many post-production meetings in my life; and it's not even a post-production heavy show."
Kamm said he was not accustomed to such a hands-on approach but that it ultimately helped the production. "Everyone at Netflix just had so much experience and they're sharing all of it," he said.
"It's very hands on and I wasn't used to that so we're talking about two different systems coming together and there is a steep learning curve on both ends. There's just so much to be learned. [Their involvement] just helps, it simply helps."
Personal experience
The project started with Anna Winter, showrunner, writer and producer, who was already riding high as the creator of Deutschland 83. She had been discussing potential projects with Netflix's Rachel Eggebeen, director of international originals, who is based in Amsterdam. The adaptation of Deborah Feldman's 2012 memoir seemed a perfect fit and the streamer fully financed the project as a Netflix Original.
The story – about a young Orthodox woman, Esty (Shira Haas) who flees her arranged marriage to find another kind of life in Berlin – immediately attracted Kamm. He had even had personal experience living in Williamsburg, Brooklyn, with a flatmate who had left the Hasidic faith.
"We knew that there was a very intense and dramatic story to be told," Kamm recalled. "Together with someone like Anna, and with Netflix, all the ingredients combined and seemed like a really, really good package."
Other key elements were co-writer and producer Alexa Karolinski as well as director Maria Schrader, with whom Winger had previously worked on Deutschland 83.
Tight timeline
The show was fast out of the gate and Kamm joined in October 2018. The finished show had to be delivered by January 20, 2020, providing 14 months to write the script, shoot on two continents, and complete post production.
Partially because of that tight timeline, but also for creative reasons, Winger knew she wanted to create the show as four parts, rather than a more typical six or more.
"Four episodes is an interesting format," Kamm said. "It gives enough for a deep dive, but it's short enough to keep the dynamics interesting."
It would also mean that most of the Netflix audience would finish all four episodes rather than abandoning the show in the middle of a longer season. However, he noted that four-part series are not eligible for certain kinds of financing. For instance, most German public funds require at least six episodes.
Kamm would not disclose the show's budget, noting that it was "an okay European budget" but not at the level of $3m or $4m per episode. "Restrictions are good and can sometimes be better than having endless resources," he added. "It really focusses you."
Diverse crew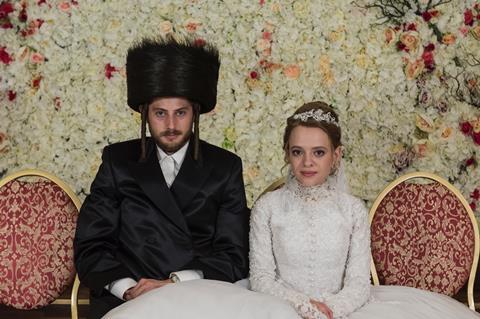 The production shot for 45 days in Berlin with a full crew and with a scaled-down operation for five days in New York. Most of the interiors set in New York were actually shot in Germany such as Esty and Yanky's elaborate wedding, which was shot over three days at a Palestinian hall in Berlin.
The crew was a "very mixed group of nationalities" including Austrian DoP Wolfgang Thaler, German production designer Silke Fischer and Australia-born costume designer Justine Seymour.
They were helped in their quest for authenticity by Eli Rosen, the actor who plays a rabbi in the film and who also served as translator, Yiddish dialect coach and cultural consultant for all the heads of departments.
"He is such a treasure," Kamm said. "We didn't want to make a stupid mistake, which would give people the opportunity to tear the whole show apart." Jeff Wilbusch, the actor who plays Moishe, was also able to help fill in details of Orthodox life.
Kamm also noted that it was important that Unorthodox focused on the story of one woman and not a whole community.
"We are telling the story of one individual girl, it's not commenting on the whole community, it's not commenting on a religion," he stated. That's why Kamm believes the film has connected with audiences ranging from Argentina and Taiwan to Kuwait. "It's really great to see that the show has managed to reach out beyond what it's actually talking about."
No sequel plans
It was the perfect storm for a 2020 hit: a story that the world had not seen told before; Netflix's reach and algorithms to reach the right audiences; and a lot of word-of-mouth buzz, at a time when the world was going into lockdown and people were craving content to watch at home.
But, with apologies to Unorthodox fans, Kamm is adamant that the team has decided there will be no sequel to the show. "We decided quite quickly that [these four episodes] told the story of Esty. [A second season] it just wouldn't be as magical," he said.
Kamm is already preparing his next shoot. Later in August, Real goes into production on a one-off event feature for German broadcaster ARD and will air on the broadcaster in August 2021 to mark the 60th anniversary of the building of the Berlin Wall.
The producer added that Unorthodox has reaffirmed his belief that shows with German elements can have global reach and added: "I think there are many more shows coming out of Germany with an international appeal and that's what I'm striving for now."