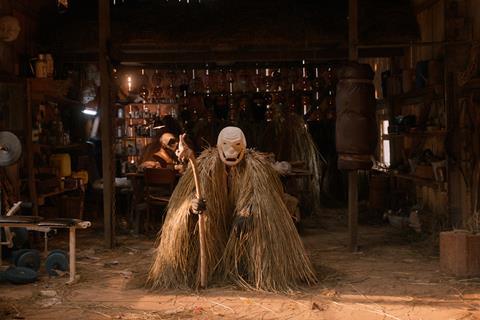 How do you keep an industry going when your cities are being bombed, some of your leading directors are fighting on the front line and your local sources of funding have dried up?
This is the question Ukrainian filmmakers have been asking themselves over the last 12 months, since the full-scale invasion by Russia on February 24th, 2022.
To the outside eye, it may seem the industry is doing remarkably well. From Pamfir and Butterfly Vision in Cannes last year to Iron Butterflies and 20 Days In Mariupol in Sundance, Ukrainian films have been feted at every self-respecting international festival since last February.
However, as Ukrainian producer and distributor Denis Ivanov notes, these films were mainly developed and shot before the war. "Basically, the biggest challenge for the Ukrainian film industry is to continue production because production has almost stopped," he says.

At the EFM in Berlin last week, during a panel discussion, Moving on: Ways to (co-) fund Ukrainian Audiovisual Content" Anna Machukh, co-founder and Executive Director of Ukrainian Film Academy, managing director of Odesa International Film Festival, had some sobering statistics about the impact of the war on filmmakers. She said many of those working within the Ukrainian film industry had lost between 90% and 100% of their income and that 27.5% of film professionals had left Ukraine since the war started.
It is still possible to shoot movies in parts of the country away from the frontline…if filmmakers can raise the financing. The Ukrainian State Agency is not in a position to invest, international funds are backing new Ukrainian projects but grants tend to be for development or post-production rather than production.
For this reason, documentaries are thriving. Filmmakers want to chronicle the war and docs are far less expensive than feature films.
"It's a bit easier because the budgets are lower," says producer Darya Bassel of Moon Man Films which is producing Olha Zhurba's wartime doc Displaced with Final Cut For Real in Denmark and We Have A Plan in Sweden. Bassel was able to raise financing from the IDFA Bertha Fund, Chicken & Egg Pictures in the US, and Arte France among others. She was able to keep her majority producer status even with public Ukrainian support.
Netflix's Fund for Creative Equity has been awarding grants through the House Of Europe programme run with the Ukrainian Film Academy, for example to documentary projects including Ash That Settle In Layers On The Surface by Zoya Laktionova, and Maryna Stepanska's It's Not A Full Picture.
The New Yorker's fast growing doc strand has supported shorts including I Did Not Want To Make A War Film by Nadia Parfan.
Festival support
Festivals, co-production events and labs have also supported Ukrainian projects. For example, Inheritance by Stanislav Bytiutskyi recently received an award for post-production in CoCo Cottbus while Masha Kondakova's project Warrior won a Eurimages Development award at the Torino Film Lab.
As well as showcasing Ukrainian films throughout the programme, the Berlinale opened with a 10-minute address from Ukrainian president Volodymyr Zelensky as part of the opening ceremony on February 16. The European Film Market welcomed a delegation of some 50 Ukrainian producers, providing free exhibition space for a Ukrainian industry stand. It also supported a presentation by five Ukrainian producers looking for co-production opportunities and hosted a panel on financing Ukrainian content.
Together with the Deutsche Filmakademie, Docudays UA launched Filmboost a scholarship programme which gave out 61 scholarships for Ukrainian filmmakers. (Irish Filmmakers supporting Filmmakers, Element Pictures, Screen Directors Guild of Ireland, and the Irish post-production company Outer Limits also joined the project.
The Polish Film Institute has also launched initiatives backing development and production of Ukrainian documentaries and animated film as well as script development.
"You really can feel this focus on Ukraine. That's important to move forward," says Pamfir producer Aleksandra Kostina of the encouragement that festivals are providing. She recently presented a case study of the film at International Film Festival Rotterdam (IFFR).
IFFR had several Ukrainian titles both in its industry section and main programme. Consider Vera by Marina Stepanska won the Eurimages Special Co-production development award while La Palisiada by Philip Sotnychenko won a Fipresci prize.
"[But] there is a dark side as well. Unfortunately for fiction films, we still did not find an option to finance our films," Kostina notes. "For fiction films, it is almost mission impossible."
It is still very difficult for local producers making feature films to apply to European national and regional funds without having any financing in place from Ukraine itself. They can apply to Eurimages, the Council of Europe fund for cinema co-coproduction, theatrical distribution and exhibition, but only as minority coproducers.
"If you're going to talk about fiction films, it's very complicated right now," agrees Bassel.
Ukrainians are depending on the goodwill of their coproducers to allow them to keep their status as delegate producers when they can't bring their own money to the table.
At the Berlin coproduction market last week, a €20,000 prize was donated by Eurimages to support Ukrainian project The Blindsight by Ruslan Batytskyi. It is produced by 2Brave Productions, run by producers Olha Beskhmelnytsina and Natalia Libet.
But the fear is the momentum behind an outstanding wave of Ukrainian filmmakers will be lost.
"We have been talking since the very beginning of the full-scale invasion that we need a special fund led by European colleagues and funds which would allow Ukrainians to get some minimum financing but this financing should be considered as national," says Bassel.
A call for applications is now out for the $1m European Solidarity Fund for Ukrainian Films launched at the Berlinale this month. Run by France's CNC, it has been created by 16 European national film organisations and companies, ministries of culture and members of the European Film Agency Directors Association (EFAD). The fund is aimed at co-productions, with development support of up to €50,000 for feature fiction projects and completion support of up to €75,000 per project.
Valeria Sochyvets is executive producer of La Palisiada and president and co-founder of Contemporary Ukrainian Cinema CUC [collective of young filmmakers]. She notes the irony of the last deadline for pitching to the Ukrainian State Film Agency was on February 23 last year. "The industry stopped," she says of what happened the very next day.
Cinemagoing within Ukraine remains robust although local observers calculate exhibition is running at approximately 30% of pre-war levels. Some cinemas have been bombed. Others are in occupied areas. Power shortages and curfews have affected the sector but spectators are still watching local films in big numbers. The question is whether these films will continue to be made.
"In terms of fiction, we have a big challenge. We wouldn't survive until this moment without the support of the international community. You can't imagine how important it is to us," Ivanov says of the part that festivals and funds abroad have played in keeping the local industry alive.