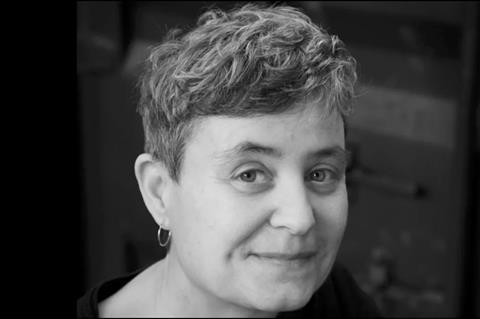 Veteran distribution executive Esther Bannenberg has spoken about her new role at International Film Festival Rotterdam's Hubert Bals Fund (HBF), which supports projects by filmmakers from Africa, Asia, Latin America, the Middle East and parts of Eastern Europe.
Bannenberg will act as interim consultant on distribution and financing matters and will assist in developing and future-proofing the fund's policy. Her appointment comes as Fay Breeman departs as manager of HBF after four years to take up a new role at regional talent hub The Machinerie in Utrecht.
Bannenberg has long experience in sales and distribution, having held positions at companies including Fortissimo Films, Lumiere and Cinemien. She also runs her own consultancy Toto Cinema, which she founded in 2006.
Alongside Jeske van der Slikke and Fraser White, Bannenberg will run the HBF at least until June when Rotterdam plans to hold the second part of its 50th edition. She will help the fund restructure its distribution activities and will be looking to further develop financing possibilities for the fund.
Bannenberg couldn't confirm whether she will be remain in the post beyond June. "It's too early to tell," she told Screen. "First, I am going to explore what can be done in terms of distribution and what can be done in terms of financing."
IFFR Pro head Marit van den Elshout revealed that HBF is looking to become "more open toward storytelling" and is exploring "ways we can be more flexible in the formats we support".
A year of restructuring
During 2021, HBF is expected to undergo significant restructuring and potentially to expand its activities. The fund currently has around €220,000 ($264,000) a year for development and €300,000 ($360,000) for co-production via the Netherlands Film Fund.
It has also had support from the Creative Europe MEDIA programme for minority co-productions through which it supports six projects per selection round with a maximum of €53,000 ($64,000). HBF's overall budget runs to about €900,000 ($1.1m).
"The financing [at HBF] is stable for this year and so our activities are set but after this year of the pandemic and having a completely different shaped festival now, we are looking at what the future will be," said van den Elshout.
"We live in a world where it is more and more difficult for talent to get financing. HBF plays a vital role in the building of credibility for new talent," Bannenberg added. She noted that HBF, founded in 1988, has always championed "inclusion" and has supported diversity and gender equality right from its start.
Double the number of projects were submitted this year to HBF for development funding – a sign of the fund's increasing importance to filmmakers during the pandemic. Over the years, dozens of HBF-backed films have competed at major festivals and won awards, among them Dea Kulumbegashvili's Beginning which won San Sebastian's Golden Shell award and is Georgia's Oscar entry.
One new initiative hatched in recent months is a partnership with Projeto Paradiso in Brazil to provide extra script and development funding for Brazilian films backed by HBF. Covid and travel corridors permitting, IFFR will be looking to bring over some of the directors and producers whose work it has been supporting to the June edition of the festival.
"There is a big need for Dutch producers to be more in touch with the filmmakers who actually apply to the fund," Bannenberg noted. "Hopefully, there is going to be a physical opportunity to be able to do that."
All being well the June edition will have physical screenings and exhibitions celebrating the fund's work. "It is not just February and June," van den Elshout said of the year-round strategy IFFR is now embracing.