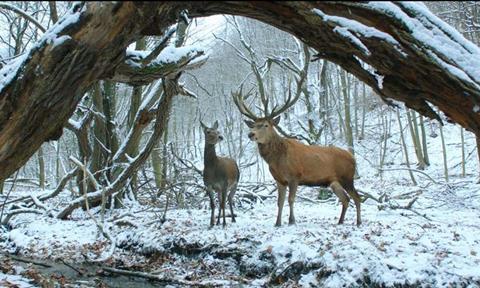 The 25th anniversary edition of Cameraimage International Film Festival, which celebrates cinematography and the art of film and ran from November 11-18 in Bydgosz, Poland, awarded its top prize the Golden Frog to Máté Herbai for On Body And Soul.
Ildikó Enyedi's Hungarian abattoir-set drama about two workers who fall in love won Berlinale's Golden Bear earlier this year, and is the country's Oscar submission for the foreign-language film category.
Cameraimage's Silver Frog went to cinematographer Mikhail Krichman for Andrey Zvyagintsev's Russian Oscar entry Loveless, while the Bronze Frog was awarded to Anthony Dod Mantle for Angelina Jolie's First They Killed My Father, Cambodia's Oscar entry.
Krichman previously won the Golden Frog for Leviathan in 2014 and the Silver Frog for Silent Souls in 2010, while Dod Mantle won the Bronze Frog for Snowden last year and the Golden Frog for Slumdog Millionaire in 2008.
Martin McDonagh's Three Billboards Outside Ebbing, Missouri nabbed the festival's inaugural audience award, while Warwick Thornton's Sweet Country, which the filmmaker lensed himself with Dylan River, won the FIPRESCI prize.
Special honours
With 5000 accredited delegates for its 25th edition, including 700 international cinematographers, the festival handed out a host of special awards over the course of its week-long run.
First in line at the start of the festival was Kenneth Branagh, who received the Krzysztof Kieślowski Award for merit in filmmaking.
The actor-director-producer praised David Lynch, who was attending Cameraimage for a retrospective of his multi-disciplinary exhibition Silence And Dynamism and to screen the first two episodes of his recent Twin Peaks series.
Branagh credited Lynch for inspiring him to be "generous, honest, polite and genuinely interested", and revealed that he had once met with the director about the role of Jeffrey Beaumont in 1986 cult classic Blue Velvet, eventually played by Kyle Maclachlan. "I haven't seen him from that day, but I hold him in awe," said Branagh, who added, "Though he did not cast me in the part and for that I can't forgive!"
The UK filmmaker was also awarded, alongside Cypriot cinematographer Haris Zambarloukos, the Cinematographer-Director Duo Award. The two have collaborated on five films in the past ten years: Sleuth (2007), Thor (2011), Jack Ryan: Shadow Recruit (2014), Cinderella (2015) and this year's Murder On The Orient Express, which was the festival's opening film.
Two-time Oscar winner John Toll received the Lifetime Achievement Award for his work on films including Braveheart and A Thin Red Line. Other achievement awards went to Paul Hirsch for his editing on films such as Star Wars, The Empire Strikes Back and Mission: Impossible; Adam Stockhausen for production design; Paula Wagner for producing; Phillip Noyce for directing; and Frederick Wiseman for documentary filmmaking.
Wiseman, 87, praised the US Constitution's First Amendment protecting free speech in accepting his award but warned it was under threat by the country's current political leadership under US president Donald Trump.
Similar sentiments were shared by festival director Marek Żydowicz, who started Cameraimage with German director Volker Schlöndorff in 1991, as a filmmaking forum dedicated to the art of motion picture photography.
"While Poland is becoming a great destination for filmmakers, I regret to admit that the democratisation of Poland, and the fear of losing the ability to benefit from it, often creates a distorted image of Poland as a country that turns away from democracy," said Żydowicz.