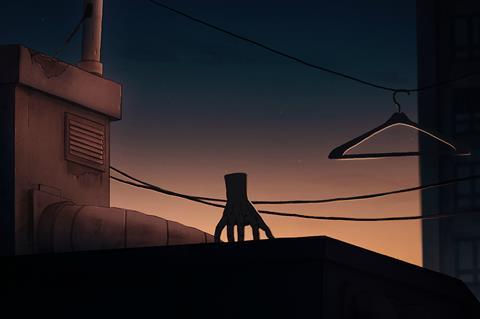 Netflix's animation I Lost My Body has won an unprecedented double as COLCOA French Film Festival concluded, winning the 23rd edition's Los Angeles Film Critics Association jury award and audience award in Los Angeles.
Jérémy Clapin's Paris-set I Lost My Body premiered in Cannes and tells of a severed hand that flees a laboratory on a quest to find its body. It won Critics' Week and Netflix snapped up worldwide rights excluding France, Benelux, and China
Ladj Ly's Les Misérables won the Los Angeles Film Critics Association's best first film award at the festival. The crime drama is France's submission for best international feature film Oscar and also launched on the Croisette, where Amazon Studios pounced on US rights.
Alexis Michalik's period comedy Cyrano My Love earned the American Students Award, and Gilles de Maistre's social justice documentary Demain East A Nous won the best documentary award.
The two COLCOA television awards presented in association with Titrafilm went to Yves Regnier's Jacqueline Sauvage, It Was Him Or Me for best TV movie, and Jean-Xavier de Lestrade's The Inside Game (Jeux d'Influence) for best TV series.
COLCOA opened with the US premiere of Les Misérables and closed with the US premiere of Nicolas Bedos' La Belle Epoque. Writer-director Claire Burger was honoured as the "Focus on a Filmmaker" with screenings of Party Girl and Real Love. LoW Entertainment composer collective comprising Alexandre Lier, Nicolas Weil and Sylvain Ohrel received a "Focus on Film Composers" with screenings of The Freshman, Party Girl and Vernon Subutex,
COLCOA is presented by the Franco-American Cultural Fund, with support from France's Society of Authors, Directors and Producers (L'ARP), the Film and TV Office of the French Embassy in Los Angeles, TV France International, and Unifrance.