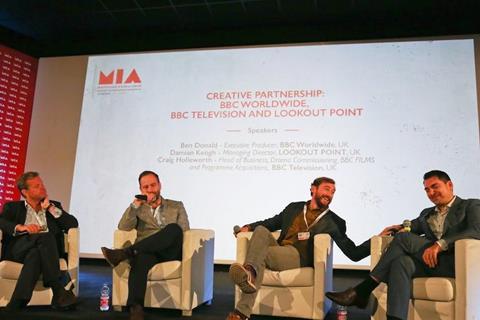 Rising budgets and competition for talent are two of the biggest challenges facing the BBC in the high-end drama sector, according to BBC execs Craig Holleworth and Ben Donald.
Holleworth, the BBC's head of business, drama, films and acquisitions, and Donald, executive producer at BBC Worldwide, were talking at a panel in Rome's MIA Market alongside Damian Keogh, managing director of War And Peace producer Lookout Point.
Holleworth said: "I wonder when the bubble will burst, at some point it probably will. [With] rising prices… about 5 years ago we could make a programme for under £1million, now they're costing two, three, four million. It's incredible how much the market has changed with inflation, driven in the UK by tax credits and the rise of Netflix and Amazon.
"It's difficult for a public service broadcaster, particularly when funding is limited. We've had the same license fee for around eight years, so it is about how we partner with people to meet those budgets.
"[Another problem is] competition for talent," he added. "Are we getting the best writers and producers when there's so much opportunity there? It has become more difficult. It's not just about Netflix or Amazon. ITV, Channel 4 in the UK and American broadcasters are picking up our best talent. Will we ever get it back? I think a lot of the power sits with writers at the moment, they're setting up their own companies, I haven't seen that before.
"I think the next two years we've got of this co-production model, then I wonder if we've plateaued. I hope the bottom doesn't drop out of the market at that point."
Damian Keough from Lookout Point, which produced War And Peace, Ripper Street and Parade's End for the BBC, agreed that rising budgets for high-end drama is making him "nervous".
He told the audience: "Budget inflation is always challenging. At the moment there are lots of buyers with deep pockets. Some of the most successful shows don't cost that much money, but the threshold of quality when you're making period [dramas] - we're making quite a lot of period – is set by shows like The Crown, and you cannot make a show that looks like The Crown without spending a lot of money. At the moment, because there are buyers willing to put that level of finance in it's good, but it does make me nervous and it doesn't seem to be steady, it seems to be rising."
New players
The panel agreed that new competition for Netflix and Amazon in the sector, such as Facebook, Google and Apple, was a positive development.
Donald said: "New entrants are welcome from a distribution and production perspective… [but] we don't know what their editorial compass is yet."
Holleworth added: "We can't have that market monopolised by two players. Branding and attribution are crucial in a global world. When you have a couple of very strong partners they try and push back on that and claim things as originals when we've developed them, so it's important that we retain the attribution as much as possible."
Keogh said: "The more co-producers the better. It's good to not just have one or two platforms. We've got the biggest companies that have ever existed in the history of the world about to buy into television, they're not even in it yet and I know there's challenges around what they might do, but it raises the opportunity as well. It's a fantastic time to be able to make television of any kind."