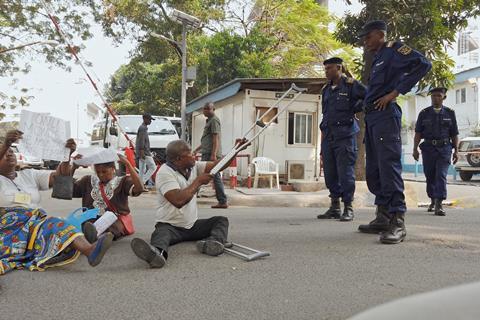 Icarus Films has acquired all North American rights to Dieudo Hamadi's Congolese documentary Downstream To Kinshasa, the Cannes Label selection that recently won top prize at DOK Leipzig.
Icarus plans a virtual theatrical release in spring followed by a VoD rollout later in the year.
The film follows a group of disabled civilians who travel down the Congo River to the capital to demand compensation for injuries suffered during the Six Day War between Ugandan and Rwandan forces in 2000.
The co-production between the Democratic Republic of Congo, France and Belgium also screened at Toronto International Film Festival, AFI Fest, and Amiens, where it was named best documentary.
President Jonathan Miller negotiated the deal with Stephan Riguet of French sales agent Andana Films.
Downstream To Kinshasa was recently named on the list of a record 238 documentaries that are eligible for the Oscars this season.