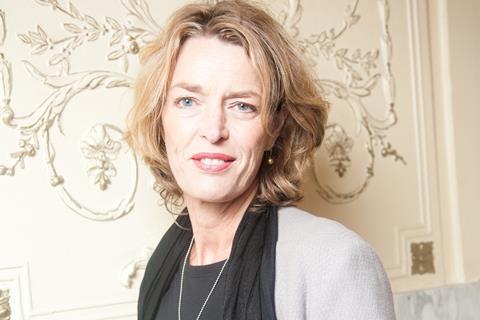 Bettina Perut and Iván Osnovikoff,'s Chilean project La Casa has won the best pitch award at the IDFA Forum at International Documentary Festival Amsterdam (IDFA) this week. The project takes place in Chile during the pandemic lockdown and numbers among its producers Maite Alberdi, an Oscar nominee as a director last year for The Mole Agent.
Anna Shishova-Bogolubova's The New Greatness picked up the IDFA Forum award for best rough cut. The film is about a Russian teenager whose life is turned upside down when she is arrested and imprisoned on jumped up charges of political extremism. The film is produced by Vladislav Ketkovich for Ethnofund and has Austrian outfit Autlook on board for world sales.
The DocLab forum award has been won by Continuum VR by Daniela Maldonado, Tomas Espinosa, and Paula Gempeler. A co-production between Colombia's Aroa Studio and France's Canvar this project is billed as an invitation to "immerse oneself in the lives and territories of six transgender women sex workers."
Upbeat mood in Amsterdam
IDFA 2021 started amid considerable trepidation as the Netherlands moved into semi-lockdown. But as it draws to a close on November 28, the festival's head of industry Adriek van Nieuwenhuijzen is in an upbeat mood about what has been achieved.
"In general, people have been extremely happy they came to Amsterdam," van Nieuwenhuijzen said of attendees at both the project pitch event the IDFA Forum and Docs For Sale. "Overall, it was very positive experience."
There were cancellations as Covid cases rose across Europe. Major broadcasters including ZDF, ARTE Strasbourg and ORF didn't make it. Denmark's CPH: DOX delegation also stayed at home.. However, some US buyers did turn up, Magnolia among them, while several Netflix execs also participated both in person and online, including London-based Kate Townsend and Sarafina DiFelice from New York.
There was also an online component of the industry events. "Online participation really works," suggests van Nieuwenhuijzen. "Of course, nothing beats a presence in Amsterdam but as long as these people can sit at the tables virtually, comment on projects and do their online meetings, I think it is very valuable."
The online industry meetings are continuing into next week, beyond the end of the festival. Due to travel restrictions, Austrian sales outfit Autlook didn't make it to IDFA but still picked up one of the most high- profile IDFA Forum projects, Victoria Mapplebeck's Motherboard.
ARTE France has also committed to " a couple of projects," although van Nieuwenhuijzen won't disclose details yet of which ones.
Filmmakers at risk
With the rise in censorship and authoritarian regimes around the world, documentary makers are becoming more at risk - one reason why some projects in IDFA this week were being presented in closed sessions.
The IDFA Forum, which is chosen from over 700 submissions, aims to offer as wide a selection of docs as possible. Intimate family stories, VR projects, polemical political docs, films about gender identity and cultural docs are all thrown into the mix.
This year's selection runs the gamut from Croatian director Tea Vidovic Dalipi's observational family doc, Bride In Search of Happiness, to harrowing stories of political repression. There is experimental VR work as well - 17 DocLab and New media projects from previous editions of Forum were screening in this year's programme.
Budgets in the Forum can range from €200,00 to over €1m, and while some projects are targeted at TV, others are clearly focused on the big scrreen. The Calabrian-set Per Tua Colpa (For All My Sins) from director Pasquale Remia is "really meant to be" in cinemas, according to van Nieuwenhuijzen.
This year marked the first edition of the IDFA Forum's Producer Connection. The aim is to showcase 15 projects at an early stage and to give their directors and producers the chance to meet potential coproduction partners. "It is about getting input from different eyes and different cultural perspectives on a project," van Nieuwenhuijzen explained.
The initiative was met with enthusiasm by both project teams and participating producers.
No-one is downplaying the challenges facing the documentary sector but van Nieuwenhuijzen says she has seen signs this week the documentary community is bouncing back.
"What was so clear was that we all felt so much this togetherness, the need to speak and the joy of everyone to meet in person," she says. "People were so extremely happy to see each and are proud to belong to the community. We inspire each other, we help each other forward…you know this feeling of resilience and determination to keep on working, that was felt so much this week."