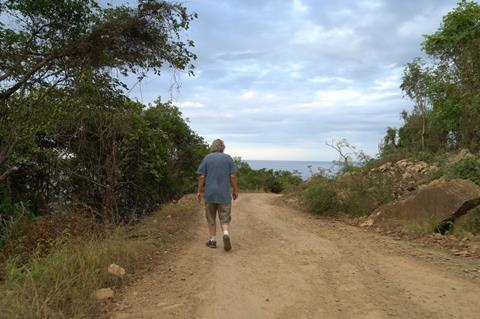 The International Documentary Festival Amsterdam (IDFA) has unveiled the line-up for its 32nd edition, which is set to take place from Nov 20-Dec 1.
At present, 64% of the festival's competition titles are directed by women, representing 47% of the total programme - the highest in the festival's history.
IDFA will open with the world premiere of Mehrdad Oskouei's Sunless Shadows, about five young Iranian women who are all accomplices in the murder of their abusive husbands, fathers, or brothers-in-law.
The flagship 12-strong Best Feature-Length Documentary competition line-up includes I Walk, from leading experimental documentary filmmaker Jørgen Leth, about his psychological trauma after surviving a major earthquake in Haiti.
Other contenders include docudrama Europa, "Based On A True Story" from UK-based Rwandan director Kivu Ruhorahoza, about a bizarre love triangle set amid racial tension in London; Marianne Khoury's Let's Talk, featuring intimate conversations with her daughter (and fellow filmmaker) Sara; and In A Whisper from Heidi Hassan and Patricia Pérez Fernández, about two emigrated Cuban filmmakers whose passion for film reunites them after years apart.
The full list of competition titles is below.
Discussing this year's directorial gender split, IDFA artistic director Orwa Nyrabia, in his second year in charge, said: "We are on track. Reaching a fairer representation was much easier than it seemed to be. We only had to keep our goal in mind. The outstanding films that found their way to us this year was a humble reminder that we are in the presence of exceptional female filmmakers."
Last year's winner of the festival's main prize, the IDFA Award, was Anand Patwardhan's Reason.
IDFA Best Feature-Length Documentary line-up
Descriptions by festival
Europa, "Based On A True Story" (Rwanda-UK-Switzerland)
Dir. Kivu Ruhorahoza
A hybrid film set in London by a Rwandan director, about a mysterious Nigerian man, his mixed-race British lover and the lover's white husband set against a backdrop of increasing social and racial tension.
Faith (Italy)
Dir. Valentina Pedicini
The sect members at an Italian monastery are training hard so they can combat evil. It's all about openness and blind devotion in this intimate look at an isolated existence.
I Walk (Denmark)
Dir. Jørgen Leth
Filmmaker, sports journalist and poet Jørgen Leth survived an earthquake in Haiti, but since then he has shuffled unsteadily through life. A fascinating personal documentary about dealing with old age when the hunger for life hasn't been satisfied yet.
In A Whisper (Spain-France-Switzerland-Cuba)
Dirs. Heidi Hassan, Patricia Pérez Fernández
Best friends Patricia and Heidi lose touch when they both move from Cuba to Europe. Years later, they send each other film letters. A beautifully designed, sensitive and frank account of two lives broken apart.
Let's Talk (Egypt)
Dir. Marianne Khoury
A mother and daughter film each other in intimate conversation about identity and modern life. These scenes are interwoven with images from the family archive and excerpts from the autobiographical feature films of Youssef Chahine, the mother's uncle.
La Mami (Mexico-Spain)
Dir. Laura Herrero Garvín
Doña Olga worked for more than 40 years in Mexico City's nightlife. Now she is "La Mami", the caretaker of the women's restroom at the Barba Azul Cabaret — a safe haven remaining in a nocturnal world that's being transformed.
Mother And Son (Azerbaijan)
Dir. Hilal Baydarov
In rural Azerbaijan, a mother welcomes her adult son, who left home eight years earlier. In the calm rhythm of rural life, reflective silences punctuate their personal, philosophical conversations.
Pearl Of The Desert (India-South Korea)
Dir. Pushpendra Singh
Twelve-year-old Moti grew up with the musical tradition of his Manganiar caste. He becomes the hero of his Indian village when he gets cast in a musical and goes on a world tour. For the talented singer, it's part of a journey to find where he belongs.
Punks (Netherlands)
Dir. Maasja Ooms
An intimate and sincere portrait of problem teenagers who are placed under temporary supervision. The challenging conversations with a counselor are meant to lead to a better life, but their past won't leave them alone.
The Sea Between Us (Canada)
Dir. Marlene Edoyan
Filmmaker Marlene Edoyan follows two women with strong views who grew up on different sides of the same civil war, thus painting an insightful portrait of Beirut: a divided city in an explosive region, balanced in a precarious peace.
Shadow Flowers (South Korea)
Dir. Seung-Jun Yi
Ryun-hee Kim is North Korean, but she has been living in South Korea since 2011 — against her will. Returning to South Korea's northern enemy proves extremely difficult. An unsettling tale that turns our ideas about North and South Korea on their head.
Sunless Shadows (Iran-Norway)
Dir. Mehrdad Oskouei
A picture of life in an Iranian juvenile detention center, where a group of adolescent girls serve their sentence for murdering a male member of their family. Alone with the camera, they reveal their thoughts, feelings and doubts.