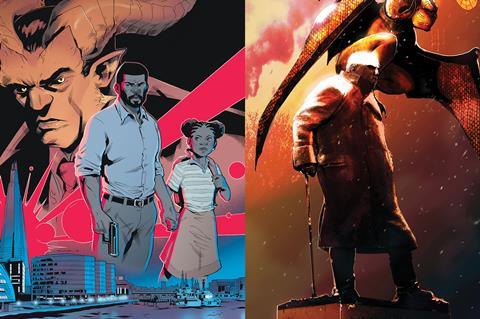 IDW Entertainment (IDWE), the content development, production and distribution arm of IDW Media Holdings, Inc, has finalised an agreement to develop, finance and produce a new scripted series based on the comic miniseries Darkness Visible.
IDWE will develop the series based on the comics created by Mike Carey and Arvind Ethan David. David, under the Ideate Media production banner, will also serve as executive producer, along with Carey and Cavan Ash, Intrepid Pictures' Trevor Macy and IDWE's CEO Ted Adams and president David Ozer.
Darkness Visible, published and released by IDW Publishing, takes place in a world in which demons helped the Allied powers win the Second World War, and humanity has reluctantly agreed to share the world with another sentient race. 60 years later, this uneasy co-existence has spawned an endless terrorist conflict.
Detective Daniel Aston, charged with being the thin blue line between the two sides, is tested to the limit when a demon sets up house inside his soul. Darkness Visible is both a supernatural thriller and a meditation on race, immigration, terrorism and politics in a world radically different, but also scarily similar to our own.
"All of us at IDW are eager to enter into this amazing creative partnership that brings like-minded creatives together on an amazingly inventive project that really challenges all of our collective talents," Ozer said. "When you have the best in the business pushing others who are equally talented and imaginative, the expected results are going to be mind-blowing."
Darkness Visible was announced during the IDW Publishing panel at New York Comic Con in late 2016, bestselling author, and released the project in February of 2017. IDW Publishing's trade paperback collection of Darkness Visible releases this week.
David said: "I am delighted to be working again with my friends at IDW. Daniel Aston is a very different sort of detective from Dirk Gently but they have in common: being deeply British, an abiding suspicion of supernatural forces beyond their control, and an unconventional approach to investigation. To have a producer of Trevor Macy's acuity and track-record on board and to be co-writing with Mike Carey, a comic-book legend and an old-school gentleman, make this a very special team working on a very special project."
Carey added: "Darkness Visible was an opportunity to create a supernatural thriller with a razor-sharp political edge. And it's only become more topical since Arvind and I first dreamed it up. Now, working with professionals who know and care about story, I'm very excited to bring Darkness Visible to the screen and look forward to working with IDW, Intrepid Pictures and my good friends at Ideate Media."
Macy said: "Working creatively with Mike and Arvind has been very compelling, and with the comics, IDW has been crucial in bringing the vision to life. This world is exciting to step into because it's different than anything on television, and we all look forward to introducing audiences to it."