The Irish Film Board backs production funding for the directoral debut from the Intermission and Boy A writer.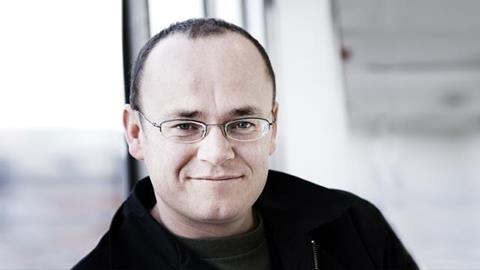 The directional debut from writer Mark O'Rowe (Intermission, Boy A) is among a number of projects backed by the Irish Film Board in its latest round of funding decisions.
O'Rowe will direct his own screenplay for relationship drama The Delinquent Season, which has been granted $707,220 (€650,000) in production funding. Parallel Films will produce.
The Delinquent Season received the largest single commitment from the IFB in one of several projects backed by the board for production funding.
They include The Man Who Invented Christmas which will be directed by Barhat Nalluri (Miss Pettigrew Lives for a Day) and scripted by Susan Coyne, which was given funding of $163,200 (€150,000). Parallel Films is producing.
Greek director Yorgos Lanthimos's latest film The Killing of a Sacred Deer, which recently wrapped filming in Cincinnati and stars Colin Farrell and Nicole Kidman, was awarded €200,000, while funding of $218,000 (€150,000) has been given to the new film by Farhad Safinia (Apocalypto), The Professor and the Madman. The film, about the creation of the first edition of the Oxford English Dictionary, stars Mel Gibson, Sean Penn and Natalie Dormer and is currently filming in Ireland with Fastnet Films producing.
Cellar Door, a drama written and directed by Viko Nicki (Coming Home) was awarded $490,000 (€450,000) by the IFB and is being produced by Samson Films.
Trade
Writer Mark O'Halloran's (Viva) latest film, Trade, based on his own play about a young man coming to terms with the death of his father, was given a provisional offer of commitment. Director Hong Khaou (Lilting) is already on board to direct, with Roads Entertainment producing with Tristan Goligher at The Bureau.
Others in receipt of provisional offers of commitment include Carmel Winters' Float Like a Butterfly, Christine Molloy's Rose Plays Julie and Damo & Ivor, with Rob and Ronan Burke attached to direct.
In documentary funding, Ross Whitaker (Unbreakable: The Mark Pollock Story) was given a provisional offer of commitment for his new project, All The Numbers.
Gary Lennon's With God in My Corner, Brendan Byrne's One Million New Yorkers and Ciaran Cassidy's 12 Miles were each granted $16,300 (€15,000).
In screenplay development funding, Gavin Burke was awarded $15,800 (€14,500) for Goodbye Horses, with Emmet Fleming (Out of Here) producing.
The drama focuses on how the tight bond between a father and his 12-year-old daughter is tested when it's rumoured she is responsible for the disappearance of a neighbourhood boy.
This is Burke's second project to receive development funding - teen comedy-drama Bags And Trev Get Dates For The Debs is also in development.
The Young Offenders follow-up
Writer/director Peter Foott is writing a new project following the success of his debut feature, The Young Offenders, which has grossed over $1.1m (€1m) at the Irish box office.
Foott was awarded $13,000 (€12,000) in development funding for Joyrider. The film, which he is currently writing, tells the story of a joyrider who emerges from prison to find that his best friend, a cop, is about to marry the woman he loves. He sets off on a road trip across Europe in a bid to stop the continental nuptials.
In development funding, Element Pictures-backed drama Miss Emily was granted $28.800 (€26,500). It's being written by Naomi Sheridan (In America).
In animation funding, directors Tomm Moore and Ross Stewart were awarded $54,400 (€50,000) for their latest project for Cartoon Saloon. Wolf Walker tells the story of a hunter who sets out to kill Ireland's wolves.