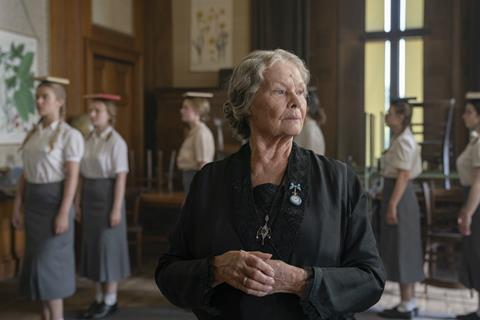 IFC Films has added the UK-set thriller Six Minutes To Midnight starring Eddie Izzard and Judi Dench to its distribution pipeline after snapping up US rights and plans an autumn theatrical release.
Andy Goddard, who directed multiple episodes of the Downton Abbey TV series, directed from a screenplay by his Set Fire To The Stars writer Celyn Jones, Izzard and Goddard.
IFC negotiated the deal with CAA and international rights-holder Lionsgate International on behalf of the filmmakers.
Based on actual events from 1939, Izzard plays a teacher to the daughters of high-ranking Nazis at a finishing school on the English coast who goes on the run after a colleague is found dead.
Dench plays the school headmistress who keeps a watchful eye over the establishment. Jim Broadbent, Carla Juri, James D'Arcy, Jones, Maria Dragus, Tijan Marei, and Franziska Brandmeier also star. Lionsgate UK has UK rights.
Motion Picture Capital, the Welsh Government, Ffilm Cymru Wales and West Madison Entertainment financed Six Minutes To Midnight, and Sean Marley, Andy Evans and Ade Shannon of Mad As Birds produced with Sarah Townsend for Ella Communications and Laure Vaysse for REP6.
Executive producers are Izzard, Jones and Trevor Beattie alongside Deepak Nayar of REP6, Pauline Burt and Adam Partridge from Ffilm Cymru Wales, Helen Lee-Kim, Zygi Kamasa and Emma Berkofsky from Lionsgate, Richard Payten, Andrew Mackie from Transmission Films, and Christina Papagjika and Matthew Salloway of West Madison Entertainment.
Arianna Bocco executive vice-president of acquisitions and productions of IFC Films, said, "Six Minutes To Midnight is an astonishing real-life tale with a legendary cast that truly brings this story to life, and we're thrilled to bring this film to audiences across the country."
Goddard added, "Six Minutes To Midnight sees the very best in British screen craft allied with the brightest young acting talent from Europe. This dynamic cuts to the heart of our story, the need to hold hands across borders is as relevant today as it was in 1939."