The app gathers user-generated audience data and supplies it to film distributors and exhibitors.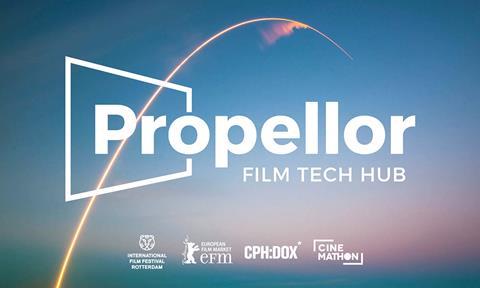 A mobile app dubbed the 'Tinder for movies' has won the top prize at the inaugural edition of the Propellor Film Tech Hub, the Canon Innovation Award, which was hosted at this year's International Film Festival Rotterdam (IFFR).
CultureCues (working title) gathers user-generated data about what types of films audiences want to see. Sending weekly bundles of trailers to users, the app then allows them to swipe right or left on each film, indicating the ones that look most appealing to them. This information is then shared with distributors and exhibitors so they can tailor their marketing campaigns.
An initial version of the app has been developed with funding from Creative Scotland and is being trialled at University College London.
CultureCues was one of two projects that were selected from a crop of nine that participated in the Propellor kickstarter. The other was Moviefication (working title), an augmented reality experience that creates a filmic world around the user, allowing them to be the protagonist of their own movie.
Both projects were invited to pitch at the closing night of the 2017 edition of IFFR industry event CineMart, with attendees at the award ceremony asked to vote on which would be crowned the event's overall winner.
The team behind CultureCues will now travel to Berlin in the summer to participate in a Propellor bootcamp.
Propellor Film Tech Hub, which launched with a kickstarter event at IFFR yesterday, is a joint initiative between IFFR, Berlin's European Film Market (EFM), Copenhagen-based film festival CPH:DOX and Berlin-based film innovation studio Cinemathon. The next Propellor event will be held at the Berlin Film Festival this month.