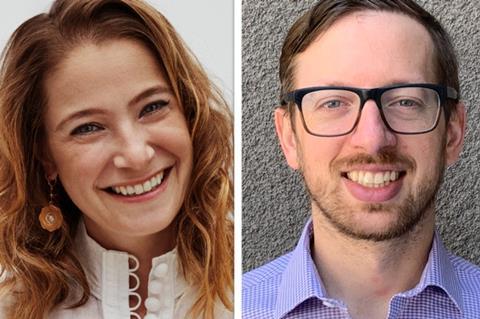 Teddy Schwarzman's Black Bear Pictures (Imitation Game, Mudbound) has named Leigh Kittay head of film and moved Ben Stillman over to head up the new TV division.
Kittay most recently served as head of film for Noah Hawley's 26 Keys, served as executive producer on Lucy In The Sky starring Natalie Portman, and before that worked at Parkes+MacDonald Productions, and J.J. Abrams' Bad Robot.
Stillman has been at Black Bear since inception and moves from feature films, where he was senior vice-president, to run Black Bear Television as head of TV.
A press release said growing a TV business for the global market was Black Bear's highest priority. Black Bear TV recently optioned rights to Irish writer Naoise Dolan's highly debut novel Exciting Times, and has commissioned close to 12 projects this year under Stillman's direction.
In his film role at Black Bear, Stillman was instrumental to the creative development of a slate that included Dave Franco's The Rental, and produced J Blakeson's upcoming TIFF selection I Care A Lot starring Rosamund Pike, and Heidi Ewing's narrative debut I Carry You With Me, that debuted at Sundance.
Black Bear Pictures has also promoted Michael Heimler to head of production and finance. Heimler previously served as vice-president of production and operations and will continue to oversee physical production, business affairs and financing, and remain involved in creative aspects.
Earlier this year he negotiated a multi-year strategic distribution partnership between Black Bear, STX Entertainment and Elevation Pictures, which Black Bear owns.
Kittay, Stillman and Heimler will report to president and CEO Schwarzman.