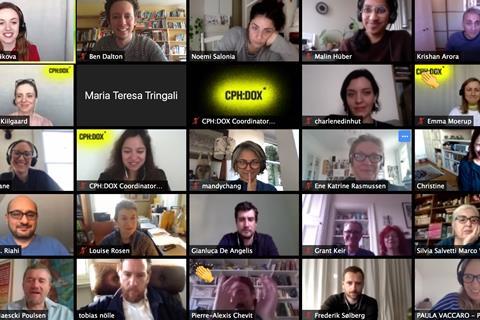 Over 200 film and television professionals took part in the inaugural online session of Copenhagen International Documentary Festival (CPH:DOX)'s Forum industry strand, which discussed how to tackle the impact of the Covid-19 crisis on the film industry on Tuedsay (March 24).
The event, which was hosted by CPH:DOX on video chat platform Zoom, was open to over 350 CPH:FORUM delegates, who were able to enter and leave the online space as it proceeded.
At its peak over 200 participants were in the shared space at one time, the majority of whom were providing both video and audio feeds from their respective locations.
Forum head Tereza Simikova lead the session, which opened with a series of pre-selected speeches, before participants were split into smaller virtual 'rooms' of five or six people each as a show of how the Forum will host projects.
Speakers to the full group included Lucia Recalde, head of unit at the European Commission's Creative Europe MEDIA programme, who pledged to filmmakers that the organisation is "doing everything we can to fight the crisis and the impact on the audiovisual sectors."
While not commenting on specifics, she said, "we are trying to alleviate the situation by introducing as much flexibility within our financial rules."
Several speakers highlighted potential positive outcomes from this difficult time.
"For the first time it's great to live in an industry that has a three-year turnaround in production cycle, as opposed to having to make it work from day-to-day," said Signe Byrge Sorensen, a producer at Danish firm Final Cut For Real. "As an industry we are lucky that so much of our work can happen from a laptop at home for many of us."
"There is a lot that we can still do; we can do archive research, editing, graphics, subtitles, accounts – all this stuff we have to do anyway."
International content consultant Krishan Arora said there has been minimal disruption to broadcasting schedules so far.
"We're a stable part of the system – most of us work from home, we're still putting out programmes," he said. "The schedules for now were decided six months ago"
He did, however, note a lengthy lockdown could cause problems further down the line.
"The issue for us will be what will happen in four, five, six months time when all the shutdown of sports and documentaries plays through – what will be on air?"
Based between London and Copenhagen, Arora works for Australian broadcaster SBS, and has previously worked as a factual commissioner for the BBC.
Cannes online
Pierre-Alexis Chevit, head of Cannes Docs at the Marché du Film, was among those to connect to the event, and gave insight into the French market's plans for 2020.
Last week Cannes postponed its 2020 edition, with ongoing discussions regarding a scaled-down event for the end of June/start of July. Chevit confirmed there will be a virtual market regardless of the physical presence. "It will be much bigger if there's nothing happening on site," he said.
Marché du Film head Jerome Paillard also tuned in to part of the session, although he did not speak in the open forum.
An inability to be in the same physical space may lead to the industry being "more inventive," said Mandy Chang, commissioning editor at BBC Storyville.
"I'm really interested in UGC [user-generated content]," she said, citing Susanne Regina Meures' Sundance 2020 title Saudi Runaway as an example of a film made without the director and creator of the footage ever sharing the same physical space.
"I do have some issues with the protagonist not getting a director credit," said Chang. "But it's a brilliant way to share; we can be more inventive about the way we go and gather material."
Documentary is a more durable form of content in these unstable times, suggested Axel Arnö, commissioning editor at Swedish public broadcaster Sveriges Television (SVT).
"People flock to docs!" he said. "We thought, 'Since there is no live sport anymore, why don't we fill that void with documentaries?"
"The ratings have been very good, and the reactions have been very good."
However, there are sizeable challenges in the immediate future. Gianluca de Angelis, a legal representative of the Italian Documentary Association, laid out the struggles in one of the countries that has been hit hardest by the pandemic.
"It's leading to a paralysis of the Italian documentary sector," he said. "It's time to be realistic; we have more than 100 productions in progress that have been suspended, more than 30 productions ready to go that have been cancelled. Almost 1,500 working days have been lost."
The Forum continues on Wednesday (March 25) with one-to-one online meetings, plus sessions including 'The Power of Documentary Storytelling in a Fractured World', and a keynote address from Christian Faber, creator of multi-platform project Rebel Nature, on 'Play, World Building and Future of (Cinematic) Universes'.