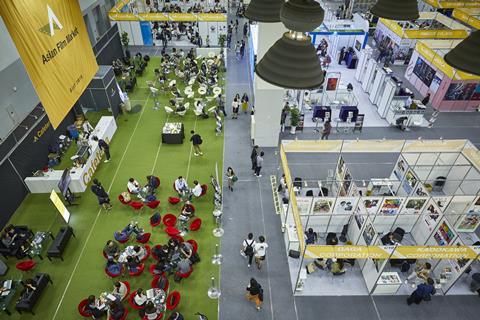 In Busan, the Asian Film Market wrapped its four-day run yesterday (October 9) with record-breaking numbers and generally optimistic buzz, despite getting hit by Typhoon Kong-rey on its first morning.
Organisers reported 150 more participants than last year, bringing the total to 1,737 professionals from 54 countries and 911 organizations engaged in the fields of production, investment, import, export and publication rights. That meant a 20% rise in the number of countries and a 38% rise in the number of enterprises.
Runners and weather
Daniel Kim, general manager of the Asian Film Market addressed complaints about the annual Busan International Ocean Marathon blocking traffic on the Sunday: "Festival chairman Lee Yong-kwan and festival director Jay Jeon have been discussing it with the marathon's host Busan Ilbo through Busan City Hall. We're trying to make it so the marathon doesn't overlap with us next year."
The typhoon was originally forecasted to hit late Saturday but sped up and landed in Busan around 9am Saturday, with rain letting up around 1pm.
"The Festival brought everything indoors, but the Market was already taking place indoors in the BEXCO so once you're inside, you're fine. It's basically three days of meetings so we didn't think we could close – we have never seen that done at any other market and people had meetings scheduled and many made it in despite the wind and rain.
"But we weren't able to be as meticulous as perhaps we could have been. We'd never experienced anything like that before – there have only been three such typhoons in the past 100 years and they all took place in recent years, so it's possible this is a climate change issue that we will have to factor into our planning," said Kim.
Whereas people coming from Hong Kong seemed to be the most disturbed and went as far as to complain the Market should have been cancelled, Kim recounts: "The Japanese who did attend – some saw the forecasts and cancelled their trips earlier on – the sellers told me the Japanese who did attend, made it to their meetings no matter what. As for the Taiwanese, they all said, 'This is nothing. We get 30 typhoons a year.'"
Brisk business, lighter atmosphere
Although foot traffic could be slow at times, sales agents reported a brisk pace of meetings and a livelier atmosphere this year.
Yunjeong Kim, director international nusiness at Finecut said, "I had back-to-back meetings booked from 9am to 6:30pm, every 30 minutes, especially because there are so many buyers. All the important ones are here."
Despite the de facto freeze on Korean theatrical releases in China, she found Chinese buyers steadily interested in Korean films.
"There are still a lot of Chinese buyers looking for projects both for theatrical and new media. I'm closing deals here now to announce later. No one knows [when the ban will be lifted] but they still come looking for good Korean titles that have done good box office, potentially for theatrical release," she said on the last day of the market.
"We don't have any complaints this year," Kim said of the organisation's management of the event.
Sofia Pineda, technical officer at the Philippine Film Export Services Office (PFESO) said, "This year our umbrella stand was twice the size. It's especially good for our young new companies to meet with buyers and programmers, a lot of whom don't have Filipino partnerships. The market was much better than last year in terms of meetings and atmosphere."
Daichi Yashiki, international sales and acquisitions exec at Toei agreed: "I think last year was a little quieter. This year, the effect of the typhoon on meetings meant nobody in the morning [of Day 1] but that afternoon was really busier."
"Here, we sell worldwide excluding Japan, and Korea is an important market for us. For European buyers, we go more to AFM and Cannes but Korea and Chinese-speaking territories are strong here," he said.
The Japanese seller noted censorship in China makes it hard for his films as well.
"There's more chance for Japanese films going to China these days, but censorship is still tough. Even for VoD services, official government guidelines have changed so it's getting tougher. It really depends on the government but they have specific quotas so we have few films released in theatres," he said.
He maintains that it's still important to attend the Asian Film Market in Korea as well as TIFFCOM in his own country.
"Some buyers come to Busan but skip TIFFCOM. Last year was especially terrible because there was only one week's difference between the two markets. But this year it's two weeks so some buyers do both - but they usually pick one," he said.
The European Film Promotion (EFP) and UniFrance umbrella stand was as busy as ever.
Alexandra Cruz, international sales consultant at Copenhagen Bombay, said, "I had a lot of meetings - even on the last day and Sunday, I had meeting after meeting from 10am to 6pm. Mostly Asian buyers and maybe two or three not from Asia. We have a studio system and our own IPs like Next Door Spy, and they were curious and excited to meet with us. Everyone was well organised at this market."
Sylvie Kim, head of sales at K-Movie Entertainment, a new Korean sales agency and production company that launched at this market, commented on the fact that there were more parties this year from the major Korean companies after the lifting of the local filmmakers' boycott and resolution of tensions within the fest.
"A lot of the buyers were talking about how the atmosphere seems to have changed and people seem to be pulling together anew," she said.
Deals
Asian sellers mostly announced new pick-up deals such as Finecut with mystery thriller Diva or Asian Shadows taking New Currents title Red Phallus and were still closing deals to announce later.
Among the most notable deals announced - Berlin-based M-Appeal sold two Busan film fest titles that previously screened in Toronto. Israeli director Michal Aviad's Working Woman and Ash Mayfair's Vietnamese drama The Third Wife sold to territories in Europe, the US and Asia.