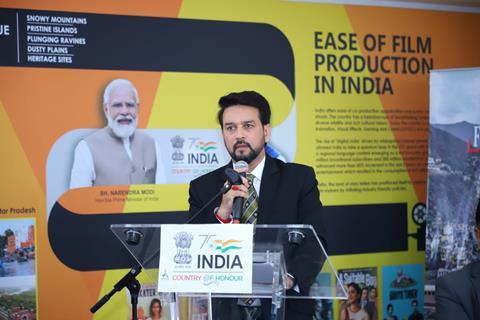 India has taken a step closer to becoming "the content hub of the world", according to the country's information and broadcasting minister Anurag Thakur.
After launching a major filming incentive scheme at Cannes, which includes a reimbursement scheme of up to 35%, Thakur spoke to Screen about what it will mean for India's entertainment sector.
"The world has been waiting, the expectations were high and India has answered with a big incentive," said the minister.
Up to 30% of qualifying production expenditure will be reimbursed by the Indian federal government, capped at $260,000 (INR20m). A further 5% will be granted up to $65,000 (INR5m) for employing 15% or more manpower in India.
"Our focus is to make India the content hub of the world and we are ready for that with the incentive structure, the Film Facilitation Office (which will handle the scheme), skilled manpower and shooting locations," he added.
Thakur highlighted the variety of locations on offer to international productions from "deserts to beaches, mountains to plains, crowded railway stations to remote villages".
He also said Indian cinema was ripe for increased distribution around the world. "India has a 6,000-year-old cultural heritage," said Thakur. "We are the land of storytellers with a lot to showcase and give to the world. I think there is a huge opportunity for Indian films to reach out to the world."
Growing to $100bn
The minister added that the Indian media and entertainment industry is one of the fastest growing in the world and is set to reach $100bn. "It stands at $24bn today," he said of the sector. "We believe it's going to touch $30bn by 2024 and expect it to be $100bn by 2030.
"Look at the growth rate in the OTT sector. It's more than 28%, which clearly shows there's a growing demand. We have the cheapest data available in India, one of the largest smartphone markets. Also, if you look at the demographics, India has the world's largest young population so there's a great opportunity there for content consumers."
India is the first ever 'country of honour' at Cannes' Marche du Film and Thakur highlighted how it falls on the 75th year of independence for India and the 75th year of the Cannes Film Festival.
Set to take more than 20 meetings over two days with production companies, associations, film festivals, directors and producers, the minster said that he wanted to engage with the industry while in Cannes and invite them to India.
"We are here to learn from the other film industries, to make films for the world and also ask the world to come and shoot in India," he added. "India is here to make a mark."