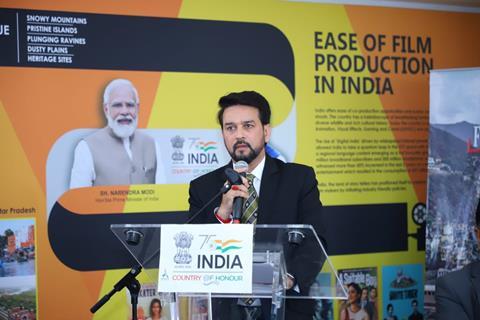 India has launched a 30% filming reimbursement scheme for international productions shooting in the country as part of ambitions to establish itself as a global content hub.
The long-anticipated incentive was announced at the Cannes film market on Wednesday (May 18) by India's information and broadcasting minister Anurag Thakur.
Up to 30% of qualifying production expenditure will be reimbursed by the Indian federal government, capped at $260,000 (INR20m). A further 5% will be granted – up to $65,000 (INR5m) for employing 15% or more manpower in India.
The applicant must be an Indian line producer and the minimum qualifying production expenditure spending threshold is $325,000 (INR25m), but not applicable to documentaries.
The scheme applies to films, TV and streaming series, reality TV, documentaries (minimum 30 minutes) and post-production and VFX services Official co-productions with India are also eligible.
India's Film Facilitation Office (FFO) will handle the incentive, which involves a two-step disbursement process: interim approval, applied for four weeks before production begins in India; and final approval, which is required within 90 days of the project finishing.
Following a successful evaluation of the project, 85% will be granted, with the remaining 15% released after receipt of the film by the FFO, which must include an FFO logo and Filmed in India credit.
India has been named the first 'country of honour' at the Cannes film market and Thakur led the largest-ever official delegation of Indian celebrities at the opening night of the festival on Tuesday (May 17).
India will spotlight five features in the Goes to Cannes section, part of the work in progress lab. They include Baghjan by Jaicheng Zxai Dohutia, Bailadila by Shailendra Sahu, Ek Jagah Apni by Ektara collective, Follower by Harshad Nalawde and Shivamma by Jai Shankar.
R Madhavan's film, Rocketry: The Nambi Effect will receive a market premiere.