India's National Film Development Corporation (NFDC) is holding the pitching event for its annual Screenwriters Lab (SWL) at this year's Hong Kong Filmart from March 18-21.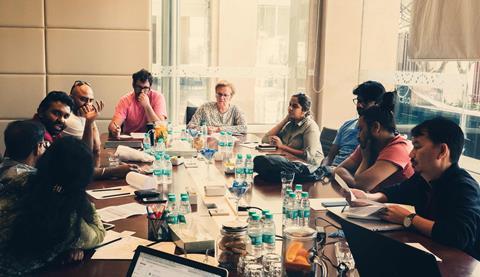 Six projects from Indian scriptwriters will be presented to potential co-producers, financiers, distributors and sales agents at the NFDC's Filmart booth at the Hong Kong Convention and Exhibition Centre (HKCEC).
Writers and directors who will be pitching projects include Akhilesh Jaiswal, who worked on Gangs Of Wasseypur as a writer; Ajitpal Singh, who was associate director on Shanker Raman's Gurgaon; and Sange Dorjee Thongdok, whose credits include National Award-winning drama Crossing Bridges.
All six projects have gone through an intensive five-month mentoring programme, with the final session taking place in Hong Kong next week (March 12-17) ahead of the pitching at Filmart. This year's mentors include New Zealand producer Philippa Campbell (Top Of The Lake), French writer/director Francois Lunel (Mona Lisa Has Vanished) and Indian filmmaker Bikas Mishra (Chauranga).
Previous SWL projects have included critically-acclaimed and award-winning Indian films such as Ritesh Batra's The Lunchbox, Kanu Behl's Titli and Alankrita Shrivastava's Lipstick Under My Burkha.
SWL is one of several initiatives to emerge from the NFDC's annual Film Bazaar in Goa, along with the Co-production Market and Works-in-Progress Lab. The six projects are:
Allowed Nahi Hai (Hindi)
Writer/director: Tanumoy Bose
In a small town in Bihar, where there is no place for lovers to meet, internet café cabins allowed Shaheen and Vinay, two young lovers to privately meet. But soon their freedom is gone when a video of them making out is recorded.
Ateet (Hindi)
Writer/director: Akhilesh Jaiswal
In Kashmir, the peaceful life of Taranah and her 11-year-old son takes a drastic turn when her husband, and the father of her child, returns after a ten year absence.
A Brown Coat (English)
Writer: Rochelle Potkar
A brown coat connects the lives of three women in the garment industry, as they battle out their lives – one through a zero diet; one through her child's kidnapping; and one through renewed faith.
In The Belly Of A Tiger (Hindi)
Writer/director: Jatla Siddartha
A family must decide who among them would go into the forest to get killed by the tiger so that they can claim government compensation to survive.
Smell Of Eucalyptus (Sherdukpen)
Writer/director: Sange Dorjee Thongdok
A filmmaker at a crossroads in his life comes back to a town he grew up in to find some answers from his past.
Switzerland – The Homestay (Hindi)
Writer/director: Ajitpal Singh
Co-Producer: JAR Pictures
The wife wants her son to walk again and the husband wants to take care of his sick sister. They don't have the money for both.