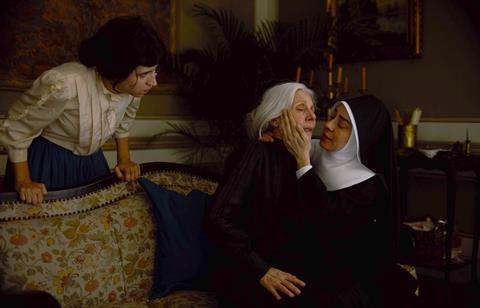 Paris-based Indie Sales has acquired world sales rights to upcoming period drama All The Dead Ones, set against the backdrop of Sao Paolo in the late 19th century, shortly after the abolition of slavery, and co-directed by Marco Dutra and Caetano Gotardo.
The film revolves around three women from a formerly wealthy coffee plantation-owning family that has gone into financial decline amid the rapidly changing backdrop of Brazil at the turn of the century.
The death of their long-time maid, a former black slave from their farm, heightens their sense of disconnect from contemporary life. At the same time, the film follows the women's former slaves who are struggling to place in society.
Dutra whose credits include 2011 Un Certain Regard entry Hard Labor and Good Manners (pictured), which won the Locarno jury prize in 2017, has re-teamed with collaborators on both those films.
Gotardo, who edited Hard Labor and Good Manners, takes editor and director credits.
Dutra's long-time producers Sara Silveira and Maria Ionescu at Sao Paolo-based production house Dezenove Som e Imagens are also on board as producers alongside Clément Duboin's Paris-based Good Fortune Films.
The film, which is in post-production, is scheduled for delivery in early 2020. Paris-based Jour2Fête has pre-bought French rights and Vitrine Filmes will handle distribution in Brazil.
"If you look at Cannes 2019, you can see that Brazilian cinema is going through a very exciting and political time and All The Dead Ones is no exception," says Indie Sales head of acquisitions Simon Gabriele. "With a light touch of fantasy, the film makes past and present live together to question the social construction of modern Brazil."
Other titles on the Indie Sales TIFF line-up include Atiq Rahimi's drama Our Lady Of The Nile, which opened Contemporary World Cinema, and Louise Archambault's And The Birds Rained Down, which also plays in the same section.