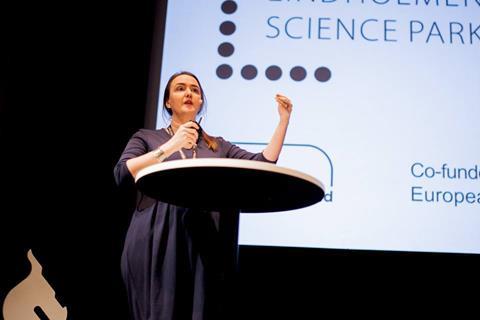 Media analyst Johanna Koljonen unveiled the sixth-annual Nostradamus report, entitled 'Relevance in a New Reality' during Goteborg's Nordic Film Market last week.
As usual, Koljonen interviews a diverse group of industry experts and asks them about the future of the screen industries in the next three to five years.
This year's interviewees were:
Efe Cakarel, Founder and CEO, MUBI
Thomas Gammeltoft, CEO, Copenhagen Film Fund

Ani Korpela, Director, Head of Content and Application Business, Elisa
Ben Luxford, Head of Audience, BFI

Glenn O'Farrell, CEO, GroupeMédia TFO
Liz Rosenthal, Programmer, Venice VR, Founder, Power to the Pixel
Sten Saluveer, Founder and CEO, Storytek
Åsa Sjöberg, Director of Content, Bonnier Broadcasting

Maria Tanjala, Co-Founder, Big Couch and Film Chain
This year's report examined five key areas:
Public Funding
Public film funding is directly threatened by the increasing political influence of populist and ultranationalist parties (and yet the audiovisual industry is important in defending democracy). Better metrics are required to argue for the public policy outcomes of arts funding. If cuts are necessary, priorities for public funding need to be considered.
With public funding under threat, the report suggests that "producers may need to start building private partnerships, and this will require a very different kind of focus on audience and distribution strategy."
Saluveer of Storytek said, "I totally agree with some of the top industry regulators that we should finance less production, but more high quality and meaningful projects, both in terms of scale and impact. At an age where the audience can fire up Netflix, Amazon or say the BBC iPlayer with a click, nobody cares about… industry sustenance movies. The audience doesn't want these films, but the industry desperately wants these to be made to keep themselves alive."
Gammeltoft of the Copenhagen Film Fund added: "I view public funding and our industry as having a responsibility that I don't see it carrying out right now. I think we should be much more responsible for what stories we tell in our TV series and our feature films."
Koljonen said of the 30% quota for European content imposed on platforms like Netflix and Amazon, "these kinds of legislative tools are blunt, but I am very much in favour of these companies contributing to the industry."
She noted how giants like Netflix or Amazon are already benefitting from public funding in Europe: "by securing investment for their own productions through tax incentives, by acquiring publicly funded content; by working locally and in the US with talent educated in Europe's publicly funded film schools, relying on publicly funded film archives, and nurtured at its publicly supported festivals and markets, where US companies too are welcome to show and sell their product; and by making US films in an aesthetic language whose development is to a great degree publicly funded by countries who believe that formal experimentation has inherent worth."
The rise of streaming
The VOD landscape will be dominated by a handful of the world's largest companies. The traditional film and television players need to face what it means to have competition that cannot be outspent. While these giants exist, there are still opportunities for independent film and smaller languages in the VOD landscape.
Most analysts agree that video will be dominated by a handful of companies of which most consumers will have a direct relationship to at least a few: Google, Netflix, Apple, Amazon and Disney are widely expected to come out on top.
Ani Korpela of Finland's Elisa said, "There might be few dominant ecosystems, but also smaller players co-existing. There might be more content players with direct-to-consumer services, such as Disney. From the consumers' point of view, content is [already] difficult to find, and it might get even more fragmented. Also, others than traditional players will be utilizing content assets, not only the usual suspects – take Walmart for example. Value chains will be developing, and roles will be changing.
"At some point in the future Netflix's business model will require spending to be proportional to earnings," Koljonen wrote. "That is not the case for the super platforms. In the new landscape, whole content divisions can profitably be run at a loss."
That's one reason MUBI is moving into production, Cakarel noted that Disney will soon having its own streaming service, and Apple is going to produce its own content. So it will be harder for independents to license their content. "If you want to be a smallish player with a hundred thousand subscribers, then you'll be able to find library content and local content here and there. But in this game, at this [higher] level, I need access to amazing filmmakers and films and will need to produce original content."
Local content can also be an important USP for local streaming services.
Saluveer of Storytek predicted that Amazon will open its infrastructure for filmmakers around the globe to self-distribute.
Cinema's place in the value chain
Global box office is booming and theatrical will stay strong especially if exhibitors are willing to find meaningful alliances all along the value chain. Theatrical continues to polarise. Blockbuster experience palaces and local cinemas focused on community and curation will co-exist peacefully; neither can support the midsize film. Marketing needs to be rethought.
Saluveer said, "Theatrical will be polarized depending on the experience. There will be IMAX – more, bigger – and the whole tentpole business is not fading. At the same time, indie theatrical will be extremely niche and very community driven. The middle layer has been hit the hardest and will wither away."
Luxford of the BFI added: "It's tough for films that are in that $5 to $15 million budget range, they can rarely get financed anymore, because the opportunity for them to run and break out is not there in cinemas. If you're looking to make 'the little film that could', you've got to try and do it for less than $5 million. Otherwise you need to be in the business of making a $30 million plus film."
Koljonen wrote, "Part of the problem is the old-fashioned system of only distributors being in charge of marketing. As the impact of traditional advertising decreases, especially with younger audience groups, a very different style of communicating about a film is required… As many audience development programmes have demonstrated, however, the results can be astounding when everyone collaborates."
Rebooting the conversation
Going forward, those who view new technologies and ways of working as tools rather than threats will win out.
Koljonen wrote, "Enormous changes have happened in audience behaviour, business models and production. Apple makes better screens today than any television had twenty years ago, and it commissions original content. The "tech industry" has been very happy to learn best practices and harvest skills from the "film industry", and it is unfortunate that many parts of the film and television industries are still prejudiced against learning from digital contexts."
Luxford of the BFI said, "Just as much as our job is to be looking after the industry as it exists, we've always got to be looking forward as well, it's our job to be futurists. We have to continue to make ourselves relevant, be on the front foot about what the future could look like. We can't just say it's important to fund European films because they tell our stories; the audience landscape demands that we are more dynamic."
At this pivotal point in the industry's change, Koljonen called for more collaboration. "Different interest groups within the sector have very different concerns, which lies at the heart of most seemingly unsolvable problems connected to the digital transformation. Whether adjusting the window system or figuring out rights for licensing online content, the very reasonable short-term concerns of different groups have stood in the way of finding solutions for a more sustainable industry in the long term…it's time to stop haggling."
Virtual Reality developments
VR is separating from filmmaking into its own medium.
As Koljonen said in Goteborg, "VR is not going to save feature films, it's its own thing." She wrote, "VR is becoming less and less relevant for the discussion of film. It's artistic development is super exciting right now but distribution models are not in place yet."
Rosenthal added, "In three to five years, we will have better designed, cheaper and more ubiquitous devices. At the moment, VR is unscalable because the consumer uptake has been limited. That's why the art world finds it very interesting; the art world plays with the idea of scarcity, whereas the media world plays with the business model of mass distribution."
The Nostradamus Report is published by Göteborg Film Festival with support from Lindholmen Science Park, Nordisk Film & TV Fond, Västra Götalandsregionen, Kulturakademin and Creative Europe/MEDIA. The full report can be downloaded here.