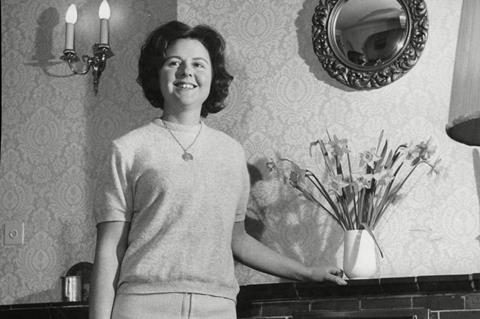 Tributes have been paid to Romaine Hart OBE (1933-2021), one of the doyennes of UK independent arthouse exhibition and distribution, who died on December 28 aged 88.
Hart was the founder of the "Screen On" chain and distribution company Mainline Pictures. She gave a significant boost to the careers of several prominent current industry figures, among them Mia Bays, the new director of the BFI Film Fund, and producers Lucy Darwin (Match Point), Stephen Woolley (Number 9 Films) and John Battsek (The Rescue, Searching For Sugar Man).
"It is an extraordinary legacy that she has left behind, all these people that were in her work family," Darwin says. "We are all indebted to her."
Hart was also acknowledged as a trailblazing figure in the release of a type of independent cinema previously seen by UK audiences only in venues like the National Film Theatre.
"Romaine will be remembered with a huge amount of love and respect by everyone who knew her," comments Daniel Battsek, director of Film4. "She had fantastic taste in movies and there was no better feeling than to get her seal of approval. Romaine was at the vanguard of the UK's independent theatre and distribution movement and we are all indebted to her wisdom and passion for cinema.
"Romaine was a mentor to me," Battsek adds. "I will miss her a great deal and remember her with much fondness."
A life in pictures
Born in Streatham, south London, on June 14, 1933, Hart came from a family of cinema owners who had run the Bloom Theatre Circuit since the 1920s. She herself began working as a programmer for the company at 18.
"She was brought into the family business by her father, Alex Bloom. They [the Blooms] had all sorts of fleapit cinemas," Hart's daughter Nicola Hart tells Screen.
In 1970, Hart took over one of the Bloom Circuit's venues, the Rex Cinema in Islington. "It was in disrepair, an old men-in-raincoats type place," Zara Hart, another of Hart's daughters, recalls of the site which Hart rechristened The Screen on the Green.
"I wanted the cinema to show the films that I would like to see myself. Also, I wanted the cinema to have some kind of character," Hart told the BBC of her programming approach at the Screen on the Green in a 1986 interview. "I was very conscious of design and colour… We were a cinema which took the best of the films that were around and chose them rather as a book club would do it."
The then-20-year-old Roger Austin was hired as an assistant and soon became the venue's main programmer as the cinema began to show the best US and international independent cinema of the period.
Early titles programmed at the Screen on the Green included Laurence Olivier's screen version of Three Sisters, Downhill Racer starring Robert Redford, Abraham Polonsky's Tell Them Willie Boy Is Here, also starring Redford, and Monte Hellman's Two-Lane Blacktop.
Thanks to Austin's close friendship with Malcolm McLaren, manager of the Sex Pistols, the punk band performed gigs at the Screen on the Green in 1976 and 1977, with Romaine Hart always in the audience.
"I remember she was so excited when we went to the concert; she had a torn black velvet jacket which she wore and she had a safety pin in it," Zara recalls of her mother. "She was such a party animal. I remember watching the young punks from wherever they were pointing to and laughing at her because of her being an older woman with a safety pin in her coat."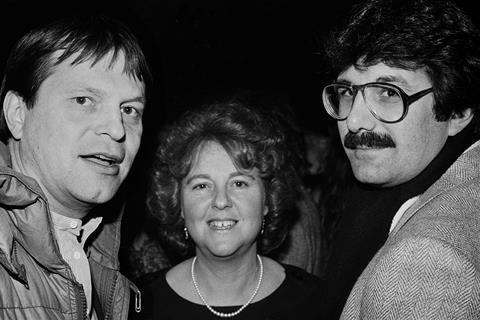 Another band that was starting off at that time, Adam and the Ants, also regularly used the cinema for rehearsals. "I was a great friend of Adam," Austin says. "We used to close the cinema at 11pm and he would come in with his band and his followers and rehearse until three or four in the morning. That went on for a long, long time."
Early in his career, Stephen Woolley worked as an usher at the Screen on the Green. Having grown up locally, he had witnessed the transformation of the Rex Cinema from "a truly downmarket Islington fleapit" into the sleek and elegant Screen on the Green distinguished by, in Woolley's words, "progressive and clever programming of cult classics by day and the late-night cinema club where from 11.15pm they showed Chabrol, Kurosawa and other greats of world cinema".
Woolley adds: "To keep this challenging programme viable in newly gentrified Islington, Romaine kept overhead costs to a minimum – I can still feel the weight of those heavy, metal 35mm film cases, running them up and down the narrow stairs to the tiny projection box – and sales of Kia-Ora drinks and boxes of Maltesers to the maximum."
According to Austin, the precocious young Woolley would sometimes get into trouble for not "rotating" the Kia-Ora so that the less fresh drinks were put at the front of the tray to ensure they sold before going off. "He would never do his work because he was so busy watching films," jokes Austin.
Woolley, though, remembers Hart very fondly.
"She was a shrewd, intelligent and generous person who unwittingly gave me a fundamental grounding not just in exhibition – in the tough 1970s when attendances were at a low ebb and The Screen was barred from showing first or second-run films which the Odeon Angel or Holloway ABC coveted – but also distribution," he says.
"Her business attributes are too numerous to list but as a woman in the quite frankly pessimistic and male-dominated '70s British movie industry, her acumen and infectious sense of humour stood as a beacon of hope for so many who followed."
Hart went on to launch several other cinemas, all of them luxurious and strikingly designed. When she opened the Screen on the Hill in 1977 in London's Belsize Park, she travelled to Paris to source French cinema seats – which she knew would be far more comfortable than their British equivalents.
Hart's Screen On venues were among the first to serve coffee in the lobby. Another innovation, not popular at the time, was to ban smoking at the venue.
Branching into distribution
In the late 1970s, Hart moved into distribution with Mainline Pictures. Among the notable titles that Mainline released were John Waters' earliest films, David Lynch's Eraserhead, rock spoof This Is Spinal Tap, Whit Stillman's Metropolitan, Ang Lee's The Wedding Banquet, Shekhar Kapur's Bandit Queen and Donna Deitch's lesbian classic Desert Hearts.
John Battsek, who would later win an Oscar as producer of One Day In September, landed his first paying film industry job as a publicist at Mainline in its Museum Street offices in Bloomsbury.
"It was an amazing place to work. It was in the heyday of arthouse cinema and she owned and ran some of the great arthouse cinemas in London," Battsek says. "She had this incredibly sophisticated and international palate."
Mia Bays also made her first steps into the UK film industry as Hart's PA at Mainline. Bays got the job after replying to an advertisement in The Guardian and worked at Mainline from 1991 to 1995.
"I remember on my CV, she circled 'homeless shelter' because I had worked in a homeless shelter so she knew I was good at caring for people and she seemed to be quite interested that I hadn't had a privileged upbringing. She made an effort to give a poor comprehensive school kid a break," says Bays.
"I think she was a 'wogul' – a female mogul. She was from a great Jewish tradition of moguls but she was a woman and she gave a north London Jewish mother version to it.
"She gave lots of people their breaks," Bays continues. "I think people maybe underestimated her and she used that to her advantage. She had a stutter. She didn't like talking in public. But actually she was incredibly astute, very good with money and very careful with budgets."
In 1985, Mainline had a spectacular success with Stephen Frears' My Beautiful Laundrette, which was originally made for television and produced by Working Title. Austin remembers that Mainline paid Channel 4 a mere £6,000 for the theatrical rights to My Beautiful Laundrette which then went on to gross more than £1m at the UK box office.
Other releases including Mira Nair's Salaam Bombay! and Whit Stillman's Metropolitan also performed well. However, by the mid-1990s, Mainline was struggling to get its features booked into the main circuits. The final title which Mainline distributed was Rose Troche's Go Fish in 1994.
"She was an incredible businesswoman," Austin comments. "To keep that chain going for so long against all the other chains and cinemas who opened around us was incredible. She was very smart with money, very shrewd, not mean. She spent what she needed to spend and no more."
Making a difference
Lucy Darwin, who went on to produce films including Lost In La Mancha and Match Point, worked as an usher at the Screen on Baker Street while she was studying for a degree. She eventually became the venue's manager.
"I started there and then I became a floating manager as well and I worked in the other Screen cinemas," remembers Darwin, who went on to work alongside Hart and Austin at Mainline Pictures, overseeing publicity and marketing.
Derek Malcolm, former critic for The Guardian, now 90 himself, knew Hart for many years. "If you were on her side, she was wonderful," Malcolm says, going on to praise her "good taste" and how she did "everything she could to get important directors here [to the UK]. She was very important to the art culture of the time."
Clare Binns, Picturehouse's joint managing director, also praises Hart's role in the industry, and has named one of the screens at Picturehouse Central in London after her.
"When I was coming up through the ranks, there were two powerhouses [in independent UK distribution]: Artificial Eye and Mainline," says Binns. "I got to know Romaine over the years. She was a woman in a very blokey male world. She was a pioneer when the film industry was just men in suits. Romaine was running a business that was completely unique at that time."
Hart, Binns observes, also countered the prevailing "sackcloth mentality" that "if you liked art films, you had to sit in uncomfortable seats and not enjoy yourself. She was very much about driving comfort.
"Romaine and Roger transformed the kind of films coming into the UK," Binns adds. "Artificial Eye did all the heavyweight European directors and Mainline were bringing in Eraserhead and Pink Flamingos. She was so forthright. She would say it rather than think it in terms of getting what she wanted. Personally, she was always so helpful me, always encouraged me to do what I thought was right."
Hart received an OBE on December 31, 1993. In 2008, the Everyman Media Group took over the Screen cinema circuit, which by then consisted of seven venues – Baker Street, Belsize Park, Islington, Winchester, Reigate, Oxted and Walton-On-Thames – and Hart officially retired from the business.
"People like her need to be remembered because she moved on the kind of films that we see and the way we see them," concludes Binns. "She really was a pioneer in that sense."