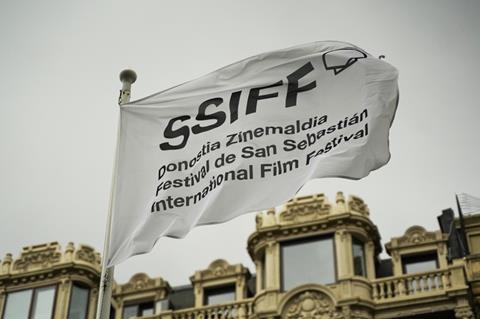 After last year's festival relied on an online industry offering, with many international attendees unable to attend in person, the screen sector was champing at the bit to return to San Sebastian, a festival cherished by many for its beach location and exquisite culinary offerings, which wraps tomorrow (Sept 25).
Industry professionals who did manage to attend in 2020 remember the city being something of a ghost town, with restaurants often closed and evenings spent holed up in hotel rooms. But for the 69th edition, which continued to offer a mix of in-person and online industry events, the Basque city was bubbling with energy once again.
"[Festival director] Jose Luis Rebordinos and his team have staged a wonderful festival and market this year, reuniting an impressive who's who of top talent and international industry," said Fabien Westerhoff, CEO of UK sales outfit Film Constellation, which secured a Spanish deal for John In A Hole to Alfa Pictures during the festival.
"For me, the festival's unique combination of stars, foodies and film enthusiasts makes for a very fertile ground to kick off new projects," he added.
While festival attendance didn't hit pre-Covid levels, it has made solid progress. In 2019, pre-pandemic, a total of 4,319 delegates attended, with 1,749 from the industry. In 2020, the number of delegates dropped to 2,626, with 1,185 from industry, and 487 of them taking part online only.
This year, the total number of delegates climbed back up to 3,848 (an estimate as of September 23 – final data will be announced the week after the festival), with 1,686 from industry, and only 140 participating online.
No on-screen talent had to drop out of attendance last minute because of Covid, as was the case with Léa Seydoux at Cannes, and the reported positive cases at the festival as of September 23 stands at zero.
A renewed sense of confidence in international travel could be felt in the BFI's decision to send a delegation of producers from the UK to San Sebastian, in spite of the fact that when a similar scheme was run earlier this year for Cannes, last minute complications caused by Covid meant only two out of five delegates could attend the festival in-person. The five who flew into San Sebastian were Annalise Davis, Christopher Granier-Deferre, Sophia Gibber, Emilie Jouffroy and Jay Taylor.
Unfortunately, the dark cloud of Covid wasn't completely lifted, with a firm set of measures in place to dispel any potential outbreaks. PCR tests had to be taken by journalists prior to interviewing talent from The Velvet Underground and The Eyes Of Tammy Faye; the wearing of masks at all times while inside festival venues was strictly enforced; much sweat was poured trying to get PCR tests in time for flights home; networking receptions were seated-only affairs with a maximum of eight per table; film screenings were operating at 60% capacity; and press conference rooms were also only allowing reduced numbers, leaving many watching Johnny Depp's eventful press conference on a screen in a Kursaal foyer.
While occasional ferocious downpours of rain didn't dampen the spirits, for many the reduced capacity in film screenings did bring disappointment, with a number of delegates expressing frustration at not being able to gain access to festival showings or some of the WIP presentations.
"Reduced seat capacity meant that some screenings were more challenging to attend than usual," agreed Westerhoff.
"There were plenty of sold-out screenings in San Sebastian," added Danish distributor Kim Foss, managing director of Camera Film. "But industry passholders did have early access to the booking system, so I saw what I wanted and needed to see."
Title buzz
The Good Boss, The Daughter and Camila Comes Out Tonight were the biggest titles in competition, with Lucile Hadzihalilovic's defiant Earwig putting audience members to work and Tea Lindeburg's As In Heaven a popular feature debut.
There was plenty of anticipation building around Alejandro Amenábar's Spanish TV series La Fortuna, which stars Stanley Tucci, and will screen out of competition today (Sept 24) in its six-part enirety.
The series' Spanish backers, Movistar+, piqued the interest of passing delegates and locals with a PR stunt, partially submerging a white model of the series title in the river beside the Kursaal with giant magnifying glasses on the Zurriola Bridge for anyone keen to get a closer look (the series is about a fated sea voyage and the hunt to retrieve a sunken ship's treasure).
Here's Johnny
On-screen talent in attendance included Jessica Chastain, Javier Bardem, Penélope Cruz and Marion Cotillard, recipient of an honorary Donostia Award. Unsurprisingly, the controversial appearance of Johnny Depp, who also was presented with a Donostia Award, was the real talking point.
The Depp press conference proved an awkward affair, owing to an audio recording of his ex-wife Amber Heard's court statement being blared out from an undisclosed source during the conference and strict guidelines on what could and could not be asked by members of the press. His prize-giving ceremony was, however, very much a carefully crafted Depp love-fest, with cries of "We love you Johnny" and "We are with you" erupting from the audience.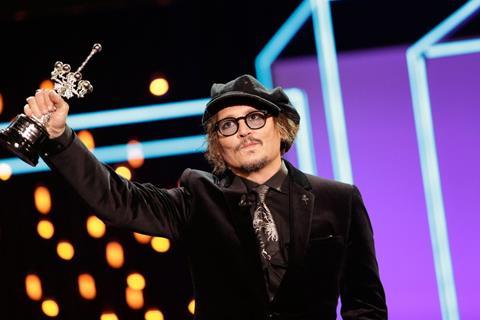 "I must say first and foremost thank you to this man, [festival director] Jose Luis [Rebordinos], and your wonderful way of accepting things and looking at things," said Depp in his acceptance speech. "I won't forget it, forever.
"I've been here three or four times, and it's the only festival that stays true to what a film festival should be about, which is the cinema, the work."
"To the people who have put themselves in strange situations, to the people who have been such great support and who have been there for a long, long time, I thank you, eternally, you warriors," he later added. "I'm sorry for all the trouble you might have gotten into over me."
Depp also used his trip to San Sebastian as a platform to unveil the launch of his new UK production house, IN.2, which plans to make film, TV and stage projects, with producers Stephen Deuters and Stephen Malit joining Depp at the helm of the company.
Its first deal is an international development partnership with Adolfo Blanco's A Contracorriente Films, with further projects planned alongside Paris-based producer Jelena Goldbach, London producer Alexandra Stone and UK producer and director Julien Temple.