Observers cite rift with owners over direction of company.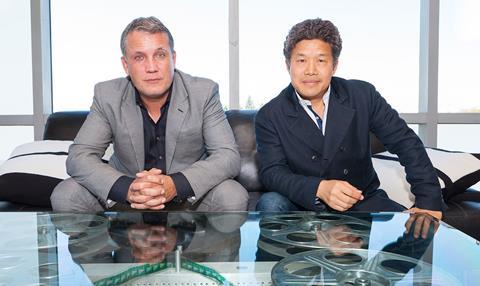 As shockwaves continued to reverberate through Hollywood and beyond following the abrupt exit of IM Global founder Stuart Ford, a picture emerged this week of a boardroom battle over the future of a global-facing US company and its new Chinese-backed owners.
According to industry insiders who have had dealings with Ford and Donald Tang, the head of IM Global's majority owners Tang Media Partners (TMP), the relationship between the two men had deteriorated in recent months and by last week had become untenable.
At issue was a fight over the direction of the company Ford launched 10 years ago that, in hindsight, speaks volumes about the contrasting business cultures that exist in Hollywood and China.
After years of building IM Global into an independent powerhouse that had in recent years expanded to encompass Chinese and Latin American content and a thriving TV division, Ford was excited to embark on IM Global's next growth stage after he sold a 60% stake to TMP late last year. (The pair are pictured together in happier times at IM Global's offices late last year.)
Yet it was not long before a rift appeared that would end what had started out as a cordial relationship and Ford's stewardship and strategic oversight of IM Global itself. As the week began, Ford had been forced out of IM Global, and the writing on the wall suggests Tang is agitating to buy out his 20% ownership stake.
Shock over ouster
Meanwhile financiers and producers with projects set up at IM Global have been calling the office to find out what they can and decide how best to proceed. Hollywood professionals and international buyers have been shocked by the ouster and Screen has learned that film industry professionals in Beijing, where Ford spent years building relationships and shuttling back and forth from Los Angeles, have also been dismayed by developments.
Some time after after TMP acquired a majority stake a fierce disagreement developed over the roadmap for IM Global. Ford had taken years to assemble a global content creator that financed, produced and licensed film and TV and remained focused on his company's scope. Screen understands the British founder and CEO took care to resist the lure of US distribution, believing it to be a venture too risky for his shareholders.
Enter Tang, the Chinese-American businessman and former Bear Stearns vice-chairman who was known as a powerbroker behind the scenes in Hollywood and had advised AMC Entertainment on its $2.6bn acquisition by Dalian Wanda in 2012.
Tang and his Chinese institutional investors (who include Tencent, Huayi Brothers, Sequoia Capital and China Media Capital) were bullish on distribution and Tang set his sights on acquiring the distributor Open Road in late 2016.
According to sources Ford, who knows and respects Open Road CEO Tom Ortenberg, resigned himself to the fact that an acquisition would eventually happen. Yet those same sources said he remained firmly opposed to an idea TMP had floated about merging IM Global and Open Road under an umbrella entertainment company.
He did not want to see IM Global's robust balance sheet merged with the less salubrious numbers of a distributor whose successes had been overshadowed in recent months by well-documented travails at the box office.
The launch of TMP Entertainment
Sources said Ford believed a merger would not happen and became upset when he realised Tang appeared set on the idea and accelerated the timetable, eventually bringing in the widely respected Hollywood veteran Rob Friedman to run the freshly minted TMP Entertainment, which one observer dubbed "Summit 2.0".
Friedman had been looking to head a new studio since his departure a year ago from Lionsgate, where he served with Patrick Wachsberger as co-chairman of the motion picture group. Tang spoke to Screen this week and said he and Friedman began talking about a year ago, adding they "recently" struck a deal for the latter to run TMP Entertainment, which includes IM Global and Open Road and other non-Chinese assets.
Tang would not elaborate on exactly when he and Friedman signed the contract. Observers suggest Tang may have planned to make the announcement at the end of the month, only to bring it forward when Screen broke the news that Ford had been forced out of IM Global.
Those same sources have pointed out the collegial nature of the "big" indie space and noted Ford and Friedman have always got along, although the swift timing of Friedman's appointment has raised eyebrows.
Friedman visited IM Global's West Hollywood offices on Tuesday afternoon to meet staff. As the former vice-chairman and later COO of Paramount who was also a senior Warner Bros executive and co-founded Summit Entertainment, his credentials are impeccable.
Observers said his hire may augur an even more prized outcome in the eyes of Tang and his company's backers. Chinese counterparts place great weight on stock valuation. Some have said that bringing in a former Hollywood studio chief to head a new studio could help Tang with a possible lucrative public offering down the line. As one independent financier described the Ford ouster: "He [Tang] committed fratricide in return for window dressing."
Tang declined to comment on the speculation over Ford's departure. Screen was unable to reach Ford for this article.