MARCH 23 UPDATE: Lionsgate's sequel opens roughly on par with its predecessor; Open Road's The Gunman takes soft $5m on debut.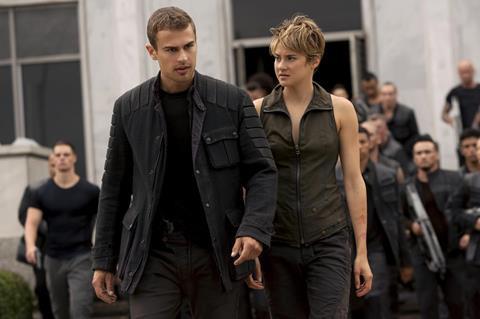 The Divergent Series: Insurgent has dethroned Cinderella at the US box office with a confirmed $52.3m bow from its 3,875 locations.
Lionsgate's sequel looks set to post a domestic bow on par with that of its predecessor, which started with $54.6m from 3,936 and went on to take $150.9m.
It marks the first time since the Hunger Games series that two films (from two books in a series) have grossed more than $50m on its opening weekend.
IMAX provided $3.6m of The Divergent Series: Insurgent opening salvo from 356 screens, delivering eight of the top ten engagements playing in IMAX. Worldwide, Insurgent took $5.3m on IMAX screens.
Last week's belle of the ball, Disney's Cinderella, fell 49% on its way to a $34.9m second weekend for $122.5m to date. At the same stage in its run, Maleficent was just ahead of Cinderella with $128.2m.
Warner Bros' Run All Night fell over 50% to add $5m for $19.6m after two weeks in play, while Fox's Kingsman: The Secret Service dropped a slim 26% in its sixth weekend with $4.6m for a superb $114.6m to date.
A couple of uninspiring new openers landed in fourth and sixth. Open Road's The Gunman was off-target with just $5m from 2,816 locations, a long way short of the $24.7m bow of Pierre Morel's Taken.
Meanwhile, Pure Flix's Do You Believe? grossed $3.6m from its 1,320 locations for a bow less than half of that of God's Not Dead, which opened with $9.2m from 780 and went on to take $60.8m.
Expanding to 32 locations following its excellent $160k debut, RADiUS-TWC's It Follows scared up an additional $344,000 for a ten-day running tally of $565,000. As a result of its strong theatrical run, the VoD release of It Follows has been delayed and the critically acclaimed horror will roll out to over 1,000 locations next weekend.
Roadside Attractions expanded Yann Demange's '71 to 116 locations, resulting in a $237,000 fourth weekend for $693,000 to date, as Bleecker Street's Danny Collins achieved the best average of this week's new openers after a $73,200 debut from five locations.
This week sees wide releases for Fox's Home and Warner Bros' Get Hard. A24's While We're Young, IFC's The Riot Club and Magnolia's Serena are among the films receiving a limited release.
Confirmed top 10 North America Mar 20-22 2015
Film (Dist) / Est wkd gross / Est total to date
1. (-) The Divergent Series: Insurgent (Summit-Lionsgate) Lionsgate International $52.3m -
2. (1) Cinderella (Buena Vista) WDSMPI $34.9m $122.5m
3. (2) Run All Night (Warner Bros) WBPI $5m $19.6m
4. (-) The Gunman (Open Road) StudioCanal $5m -
5. (3) Kingsman: The Secret Service (Fox) Fox International $4.6m $114.6m
6. (-) Do You Believe? (Freestyle) PureFlix $3.6m -
7. (6) The Second Best Exotic Marigold Hotel (Fox Searchlight) Fox International $3.5m $24.2m
8. (4) Focus (Warner Bros) WBPI $3.2m $49.3m
9. (5) Chappie (Columbia) SPRI $2.7m $28.3m
10. (7) The SpongeBob Movie: Sponge Out Of Water (Paramount) PPI $2.4m $158.8m