Cheung launches new genre distribution label with FrightFest hit.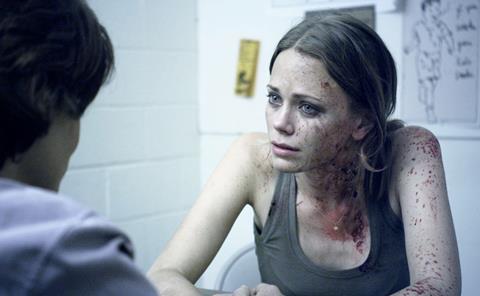 Newly launched Intense Distribution and 101 Films have acquired the UK rights to horror thriller Banshee Chapter and plan a release in January 2104.
Blair Erickson writes and directs. The cast includes Ted Levine, Katia Winter and Michael McMillian.
The story follows a young journalist who researches a strange government-manufactured chemical. The filmmakers say the story is inspired by a real secret programme run by the CIA.
The 3D film had its world premiere at Film4 FrightFest and it also screens at Toronto's After Dark Film Festival on Oct 24.
Producers are Stephanie Riggs, Christian Arnold-Beutel and Before the Door's Corey Moosa and Sean Akers.
Executive producers are Zachary Quinto, Neal Dodson, Marcus Schoefer and Gudrun Giddings.
The deal was negotiated by Chee Keong Cheung of Intense Distribution, Andy Lyon of 101 Films and Producer Christian Arnold-Beutel on behalf of BC Distribution.
Before The Door's credits also include Margin Call, Break Up At A Wedding and All Is Lost.
"We are so happy Banshee Chapter has found a home in the UK," said Quinto, a partner in Before The Door Pictures who is best known for playing Spock in JJ Abrams Star Trek movies.
"Intense Distribution and 101 films are great partners and will help us make sure the film reaches a wide range of fans through a multi-platform distribution model."
Producer Christian Arnold-Beutel added: "We are excited about working with Chee's Intense Distribution and the team at 101 Films as they are truly enthusiastic about our movie, hard working and very experienced in what has become a challenging market."
Chee Keong Cheung, who founded Intense Distribution as a division of production house Intense Productions, said: "After such a strong response at Frightfest, together with 101 Films, we're incredibly excited to have the opportunity to bring Banshee Chapter to UK audiences.
"It's an extremely tense, atmospheric picture with a truly unique and horrific blend of fact and fiction."
He added: "Intense Distribution was formed with the goal of working closely with both established and up and coming directors and producers on their films and I couldn't have hoped for a better, more passionate, diverse and talented group of filmmakers to work with for our companies debut release."
Intense Productions is currently in development on action horror Zombie Apocalypse, to shoot in 2014.
Genre label 101 Films has worked on releases including Sawney: Flesh of Man and the re-release of 1978 cult classic I Spit On Your Grave.