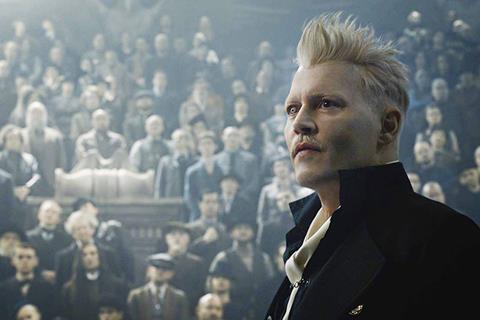 Fantastic Beasts: The Crimes Of Grindelwald has ruled global and international box office for the past two weekends and will struggle to retain its crown as Ralph Breaks The Internet and The Grinch flex their claws.
The Grindelwald fantasy saga stands at $343.8m through Warner Bros Pictures International and $465.6m worldwide. It should cross $500m this weekend but may drop down in the pecking order.
The Harry Potter spin-off may even get a surprise from stablemate Crazy Rich Asians, which faces a big test this weekend when it debuts in China. The rom-com has been a huge hit in North America and done well internationally on $62.8m. China is the opportunity to push it past the $100m and register as a true global sensation.
Creed II starring Michael B. Jordan ventures into the UK and Australia this weekend through Warner Bros Pictures International and has grossed an early $1.7m. Executives are hopeful of another impressive UK debut after the original opened on $3.3m in January 2016 on the way to an $8.2m final gross. Bradley Cooper's A Star Is Born stands at $165.1m.
Ralph Breaks The Internet shot out of the gate last weekend in its first 18 territories through Walt Disney Studios Motion Pictures International and stands at $51.7m. The animation enters its second weekend in China, where it opened strongly, and debuts in the UK, Portugal, Taiwan, Thailand and South Africa, among others.
This will be a big session for the animated sequel if it is to overtake Grindelwald and claim the box office crown. The UK in particular is expected to deliver the goods. The original debuted there on $7.2m in February 2013 en route to a $36.2m final tally.
Disney's fantasy tale Nutcracker And The Four Realms stands at $81.5m through Walt Disney Studios Motion Pictures International heading into France, Hong Kong and Japan this weekend.
Universal Pictures International executives report that The Grinch has reached $38.3m and the children's release is expected to make some noise this weekend when it expands into a further 21 territories. Debut highlights are expected in Australia, France, Germany, Italy, Spain, Netherlands, Poland, Switzerland, and Singapore.
Johnny English Strikes Again – the best international performer of the comedy franchise starring Rowan Atkinson – stands at $142.4m.
Damien Chazelle's Space Race drama First Man starring Ryan Gosling has grossed $54.5m and opens across parts of Latin American including Argentina. The House With A Clock In Its Walls $25.9m from Universal territories and debuts in Malaysia.
Fox International is rolling out Steve McQueen's heist drama Widows on $13.8m in a further 17 territories, among them Mexico, Brazil, France, Spain, Switzerland and Belgium. Bohemian Rhapsody has reached $329.8m.
Sony Pictures Releasing International executives report that Venom has amassed $617.8m, of which $250.2m comes from China, while the latest Lisbeth Salander adventure The Girl In The Spider's Web opens in South Korea and has grossed a meagre $17.6m.
Horror film The Possession Of Hannah Grace debuts in the UK, Mexico, Brazil, and Spain day-and-date with the North American launch through Screen Gems.
Second World War horror film Overlord produced by J.J. Abrams has generated $18m through Paramount Pictures International.