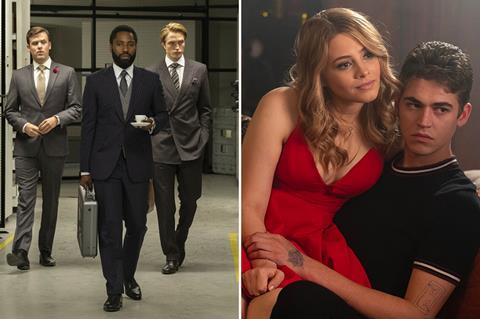 'Tenet' boosted by new openings in China, Russia
Christopher Nolan spy thriller Tenet grossed a confirmed $57.8m including previews in its second session internationally, up from the $53.6m it delivered in its opening weekend frame. Adding in grosses from Monday, the international total is now $132.1m.
The numbers were boosted by openings in fresh markets such as China, which yielded $29.8m. In holdover markets, the overall decline was 36%, which would be considered a strong hold for this kind of high-concept blockbuster fare.
Including the US, where the film was a new opening at the weekend, Tenet grossed an estimated $78m for the session, for a global total to date of $152.3m.
After China, the top international markets saw a three-way tie between France, UK and Germany (all at $2.9m), followed by Russia ($2.7m).
Market shares were strongest in Russia (over 70%), where Tenet was a new release, and in UK (nearly 70%, in its second session). Tenet was the top title in all these markets.
The film was boosted by its performance in large-format presentations, and grossed $11.1m globally in IMAX, including $5.3m in China and $2.8m in North America. Average decline on IMAX screens in holdover markets was 23%, which is gentler than the decline across all formats.
Tenet debuts in another two territories this weekend (Hong Kong and Qatar), with Japan and Mexico to follow a week later.
'After We Collided' debuts with strong six-day $10.6m
Voltage Pictures' After We Collided arrived in multiple territories last Wednesday (September 2), scoring particularly well in Italy, Spain and Portugal, where it was the top title, and delivering $10.6m in its first six days.
The film is adapted from the novel of the same name by Anna Todd, and is a sequel to 2019's After, which is likewise adapted from a Todd novel. (Other books in the series are After We Fell, After Ever Happy and prequel Before.)
The romantic drama is directed by Roger Kumble (Cruel Intentions) and stars Josephine Langford and Hero Fiennes Tiffin. After We Collided grossed $58m internationally and $12m domestically in 2019 for a $70m global total.
The film's top territories in order of box office merit are Germany ($3.13m from 511 sites); Italy ($2.88m from 641 sites); Spain ($1.50m from 294 sites); Austria ($577,000); and Czech Republic and Slovakia ($575,000).
Numbers were significantly ahead of the opening sessions for After in Italy, Portugal and Spain – where the film is distributed respectively by 01 Distribution, Cinemundo and Sun/Diamond.
After We Collided arrives this week in Sweden, Australia, New Zealand, Romania, Poland, Estonia, Lithuania, Albania and various nations from former Yugoslavia. Russia and other markets follow a week later.
'Mulan' opens in select markets
While Disney chose to offer Mulan to Disney+ subscribers at a premium charge, bypassing cinemas, it has released Niki Caro's live-action remake theatrically in select territories where the subscription service does not operate. Disney estimates that these collectively represent only 6% of the normal international footprint. Opening weekend gross was an estimated $5.9m.
The film placed number one in UAE, Malaysia, Singapore and Thailand. Other markets playing Mulan in cinemas were Croatia, Czech Republic, Slovakia, Turkey, Saudi Arabia and Taiwan.
Two key markets open Mulan this coming weekend – China and Russia – as do Greece, Hungary, Israel, Slovenia, Kuwait, Ukraine, Poland and South Africa.
'The New Mutants' adds $4.2m in international
Disney's The New Mutants expanded into 20 new international markets, bringing the total to 30 countries, and grossing an estimated $4.2m for the weekend session. International total is $8.5m, and global total is $20.1m.
Key new markets were Italy, UK, Russia, Australia and Mexico. Top among these were UK (opening in second place) and Mexico (in first place), both debuting with an estimated $0.5m. However, previews the previous weekend in UK bring its official opening tally to $0.9m.
Russia and Australia delivered an estimated $0.4m apiece, placing second in both those territories. Cumulatively, top territory outside North America is France, with $1.9m.
This coming weekend, The New Mutants arrives in Germany, South Korea, Austria, Slovakia and Turkey.