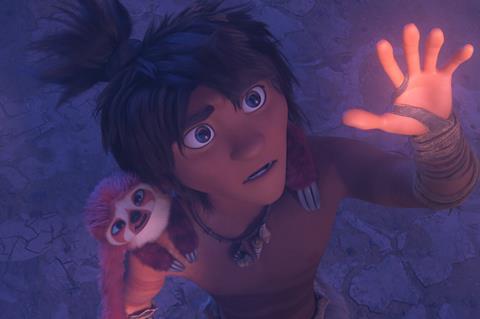 'The Croods: A New Age' passes $50m in international
New openings in Mexico and – to a lesser extent – Ecuador helped buoy up Universal's release of Dreamworks Animation's The Croods: A New Age in international markets, topping the box office in both territories.
The film is estimated to have grossed $8.4m in international markets, down from $13.0m the previous weekend, and taking the total outside North America to $52.1m. Adding in the domestic tally, The Croods: A New Age stands at $76.3m worldwide.
China was once again the top territory, adding another $6.4m for a total of $46.5m. Mexico was the second brightest market for the film, delivering $927,000 including previews in its debut session – the biggest opening in the country since cinemas reopened.
Key markets set to open around Christmas time are Spain, Russia and Australia. Dates in major European territories such as Germany, France, Italy and UK are yet to be confirmed.
The Croods: A New Age is directed by Joel Crawford (head of story on Trolls), with Nicolas Cage, Emma Stone, Ryan Reynolds and Catherine Keener reprising their voice roles from the original film. In 2013, The Croods grossed $187m domestically and $400m internationally (via 20th Century Fox) for a $587m worldwide total.
'The Witches' debuts at top of Australia box office
A strong opening at the Australia box office saw Warner Bros' The Witches achieve a nice bump in its seventh session – with international takings rising to $2.2m, up from $1.6m for the previous weekend.
Robert Zemeckis's Roald Dahl adaptation grossed Aus$1.58m ($1.19m) including previews in Australia, bumping The War With Grandpa off the top of the box office. Excluding previews, The Witches still had the edge, grossing Aus$1.13m ($854,000) for the weekend period, ahead of The War With Grandpa's Aus$1.08m ($816,000). The two films are way out in front of third-placed Happiest Season, with Aus$300,000 ($227,000) in its third session.
Australia was convincingly the top market for The Witches at the weekend. Japan delivered $398,000 in its second session (declining 50%), and a first-placed opening in New Zealand ($197,000) was the other bright spot.
Total for The Witches after 45 days is $22.0m. North America doesn't contribute to the total, as The Witches went straight to HBO Max domestically, and nor does the UK, where the film took a premium VoD route.
In cumulative totals, Japan has now moved up to third place in the territory league table, behind Russia and Mexico, with Saudi Arabia in fourth place. Spain, Taiwan and Australia are all tied around $1.2m, and the latter is clearly destined to shoot up the list of The Witches' best-performing markets.
Also from Warner Bros, Melissa McCarthy comedy Superintelligence grossed an estimated $342,000 from 11 territories in its third weekend of play, down from $536,000 in its second session. International running total is now $2.2m. The film opened in one new market – the UK – where it earned an estimated $89,000. Australia, where cinemagoing remains relatively buoyant, opens this Thursday (December 17).
'Monster Hunter' nears $5m for Sony International
Paul WS Anderson's Monster Hunter delivered another $1.3m for Sony International in its second weekend, down from $2.65m for the debut session. Total after two weekends of play is $4.8m.
The Capcom videogame adaptation held the top spot in both Taiwan and Saudi Arabia, grossing $610,000 (for a $2.6m total) in the former, and $310,00 (for a $1.0m total) in the latter. The weekend's takings were boosted by new openings in South Africa, Oman and Iraq.
These numbers do not include China, where the film is distributed by co-financier Tencent, and where it was yanked from screens after one day because of concerns over a racial slur.
Monster Hunter is set for a number of key openings (Spain, Mexico, Australia) over the December 30-January 1 period, with more major territories to follow later in January: Brazil, South Korea, Russia, Germany and UK. France, Italy and Japan will follow.
Monster Hunter stars Milla Jovovich, who likewise starred in Anderson's Resident Evil series of films, adapted from the Capcom videogame. Resident Evil: The Final Chapter grossed $312m worldwide in 2016, with a very strong $285m of that total contributed by international markets, including $160m from China and $36.5m from Japan.