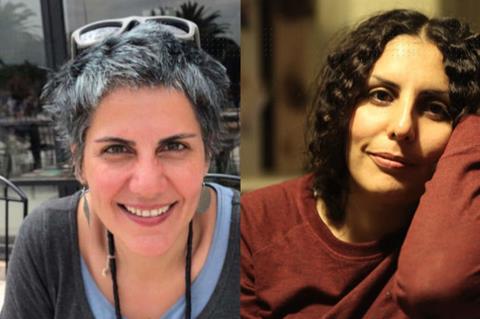 The International Coalition for Filmmakers At Risk (ICFR) "remains extremely disturbed" following the arrest of two documentary makers in Iran, who have subsequently been released on bail, and banned from leaving the country for six months.
Mina Keshavarz and Firouzeh Khosrovani were arrested in Tehran on May 10, after their homes were searched and their personal and professional belongings such as mobile phones, hard drives and laptops were confiscated.
Keshavarz and Khosrovani were released on bail on May 17 and banned from leaving the country for six months. There have been no official charges since their arrest.
Khosrovani's 2020 documentary Radiography Of A Family won best feature at the Amsterdam International Documentary Film Festival (IDFA).
Keshavarz's filmography includes Profession: Documentarist, about seven women filmmakers, Braving The Waves and Sheffield Doc Fest premiere The Art Of Living In Danger.
The ICFR was founded in 2019 by the European Film Academy (EFA), the International Documentary Festival Amsterdam (IDFA) and the International Film Festival Rotterdam (IFFR) to support filmmakers facing persecution. The body has issued a statement saying that it continues to be "extremely disturbed by continued reports of arrests of filmmakers in Iran and demands an end to a growing environment of fear and insecurity in which filmmakers live and work".
"Putting such world-class filmmakers in a suspended state of 'release on bail' prevents them from travelling, working, or contributing to both the international and the Iranian cultural life," said Orwa Nyrabia, ICFR chairman. "This is already a drastic measure aimed at artists whose work shows the most loving and respectful image of Iranian art and culture to the whole world, an image that breaks down barriers of stereotyping and prejudice.
"Such measures are dangerous, and such artists deserve to be treasured, not persecuted. Furthermore, they are not alone. Filmmakers around the world will stand by their side and protect their freedom and safety."
The ICFR has said it will continue to observe the situation of the filmmakers and the arrests of any other filmmakers following the recent events.
"It's crucial to support these film makers at this time," added ICFR co-founder and chairman of the European Film Academy, Mike Downey. "Their release is only temporary and came after the families intervened to bring about their freedom on bail."
Reaction in Iran
Within Iran a group of Iranian actors and directors, including Berlinale Golden Bear winner Mohammad Rasoulof, published an open letter condemning the questioning and arrest of the filmmakers on Rasoulof's Instagram (May 14). Rasoulof has been banned from travelling internationally and been sentenced to one year in prison because of his work, but has yet to serve his sentence. Golden Bear and Cannes Camera d'Or winner Jafar Panahi is also among the signatories, and lives in Iran under a travel ban.
The letter called for "the freedom of all prisoners of idea and culture and art, including documentary makers".
In a later Instagram post (May 18), Rasoulof criticised the "well-known figures who preferred protecting their position over empathy with their colleagues" who refrained from signing the statement. "Perhaps in the future the names of people who take credit from society but prefer their benefit and protection of their personal position over anything should be listed separately," he said.