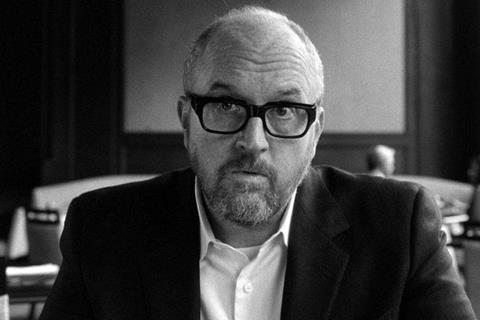 NOVEMBER 14 UPDATE: Plans to distribute Louis C.K.'s I Love You, Daddy internationally have been dropped after the comedian and filmmaker admitted to allegations of sexual misconduct.
On Tuesday (November 14) The Orchard, which acquired worldwide rights for $5m in Toronto and recently scrapped plans to release the film in the US, told Screendaily all future and planned releases on a global basis "are no longer being planned at this time."
International distributors had included ARP Selection in France, NonStop in Scandinavia, Shoval Film in Israel, Leopardo Filmes in Portugal, and Front Row in the Middle East and North Africa.
Front Row issued a statement that read: "For as much as we acknowledge Louis CK's creative and performing talent, by releasing the film in the Middle East and North Africa would mean condoning this type of behavior and forgetting the damage it has caused and still causes to the victims regardless of gender.
"Therefore, we, at Front Row, have decided not to release the film. This is the type of message we would like to send to the whole system which needs to re-examine its core ethical and professional values."
The development caps a tumultuous few days stemming from claims by five women in The New York Times last week. The Orchard dropped the film in the US a day before C.K. admitted publicly to the allegations.
I Love You, Daddy premiered in Toronto and is financed, produced and directed by C.K., who plays a TV producer troubled by his teenage daughter's friendship with an aging film director.
The story is viewed as a thinly veiled commentary on Woody Allen, who has denied allegations of sexual impropriety for years.