Christopher Nolan's soon-to-launch epic rockets to the top of social media buzz charts in the UK.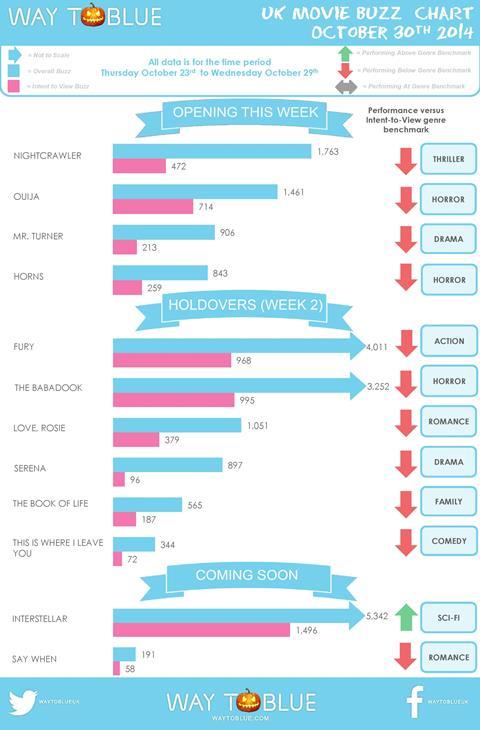 More than a week before Interstellar blasts into cinemas, social media networks in the UK are buzzing over the sci-fi epic.
Christopher Nolan's first feature since The Dark Knight Rises (2012) generated more than 5,300 comments from Oct 23-29, of which 28% expressed intent to view, according to Way to Blue.
Fury, the Second World War tank movie starring Brad Pitt now in its second week of release, had to settle for second place with just over 4,000 comments, with 24% looking to convert comments into tickets.
Also entering its second week in cinemas, Australian chiller The Babadook took third place with more than 3,250 comments, with 31% expressing intent to view.
In the run up to Halloween another scary movie, Ouija, summoned up more than 1,460 comments, with a strong intent to view of nearly 50%.
Of the other films opening this week, Mike Leigh's Mr Turner generated more than 900 comments while murder thriller Horns, starring Daniel Radcliffe, managed nearly 850 comments.