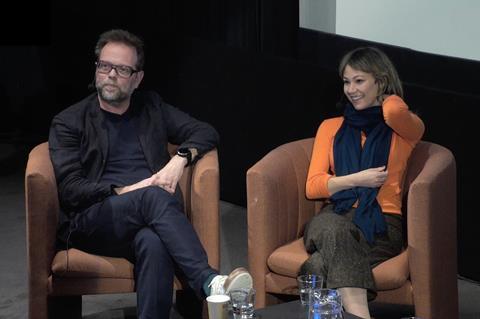 Into The Ice director Lars Ostenfeld and Fire Of Love filmmaker Sara Dosa took the stage at CPH:DOX in Copenhagen today (March 30) to discuss the challenges of wrangling epic themes into an entertaining and accessible narrative.
CPH:DOX opening film Into The Ice is a study of the effects of climate change on Greenland's gigantic ice-sheet while Fire Of Love is an archival portrait of passionate volcanologists – both compelling stories of humanity's changing relationship with the world around us.
Both spoke about their own curiosity as filmmakers, and how that was the initial impetus for their documentary journeys as well as the challenges and urgency of telling stories around climate change the environment.
"As a director I'm endlessly curious about the human relationship with nature, particularly through the lens of myth or allegory," said Dosa, who came across the story of French volcanologists Katia and Maurice Krafft while in Iceland working on another film.
She was immediately struck by their relationship with each other and their fascination with volcanoes and knew that telling their story could "break down the false narrative about the distinction between humans and nature. We got to use our own curiosity as a lens."
Ostenfeld also said that it was his own desire to understand more about the ice sheet he kept reading about in climate change stories which led him to Greenland. Securing initial funding from The Lundbeck Foundation, he followed three scientists for a year, surviving with them on the ice and accompanying them on expeditions – something no other film crew had ever asked to do.
For both Ostenfeld and Dosa, getting close to their subjects was crucial to ensuring their films informed an audience through story, rather than bombarding them with science. "There comes a saturation point [of scientific information]," said Dosa. "It can get in the way of the emotional story."
For Ostenfeld, that meant spending time with the scientists, listening to their stories of home and family, and experiencing life with them on the ice. He spoke about how he overcame his fears to descend into a massive hole in the ice, in order to film it from the inside. "It was the most beautiful thing I have ever seen, but also the most dangerous. But I was so curious to see what was at the bottom. That curiosity was stronger than fear."
Tragedy and mystery
Despite Ostenfeld's physical feats, Dosa perhaps faced a different challenge in getting to the heart of her subjects as Katia and Maurice died in a volcanic eruption on Japan's Mount Uzen in 1991. This tragic event is covered early on in Fire Of Love, a decision Dosa describes as "setting the clock of the film".
Dosa and her team spent months immersed in the Krafft's extensive personal archive as well as speaking with family and friends to get a sense of who they were.
"Geology is a study of the archives of the Earth: there's so much that you can understand, but also so much mystery," she said. "We applied this kind of methodology to the archives [and] we tried to put the audience in the mind of Katia and Maurice, and their journey to understanding."
Both filmmakers credit their strong central characters as the reason their documentaries are resonating with audiences.
Climate change challenges
Into The Ice premiered at CPH:DOX and is touring with Docs Denmark before heading onto the festival circuit, while Fire Of Love premiered at Sundance, where National Geographic Films secured worldwide rights, and has since played a variety of festivals. They both hope their approach to these stories will bring a universal message surrounding climate change and the caretaking of our natural environment to a wider audience, in an accessible way.
"When I first started pitching this, one TV station told me not to mention the words climate change as, immediately, you will halve the audience," Ostenfeld recalled. "I went out from that meeting knowing I would need a different partner.
"We wanted to show these scientists as humans and adventurers. That's the way we filmed and edited; as a big adventure discovering nature in a very important place on earth. So I hope people will watch it and wake up to trying to solve the problems for themselves. And that young people will want to become like these scientists."
"Our film is not explicitly about climate change, but we do see it as an environmental film," noted Dosa. "I think that adding an emotional component, seeing how the environment tangibly affects human life, gives the audience a way to connect [with the themes].
"Storytelling in this fashion is extremely urgent. Sometimes scientific language is depoliticised in its framing, so there's something to be said for showing people, land, relationships and power dynamics. The choices that filmmakers make can stir the debate."
"We're still taking a lot," noted Ostenfeld of the potential impact of films like Into The Ice and Fire Of Love. "Scientists are saying the same thing over and over again to politicians. They feel that they can look into the future, but no-one is listening to them. But they will continue to tell the same story, and hopefully one day we will start doing something.
"It's important for everyone around the world to watch these kind of films to change our relationship with the earth."