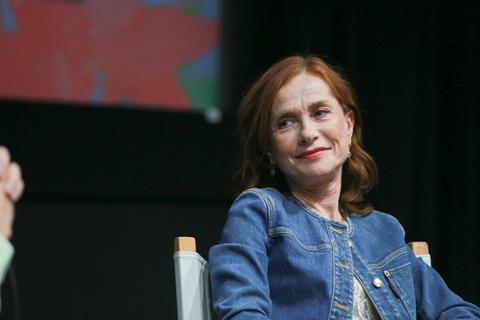 French actress Isabelle Huppert has said a greater number of female festival heads would help to boost the number of female-directed films selected for major festivals.
When asked by Screen at the Sarajevo Film Festival, what she believed could be done to increase the representation of women directors at film festivals Huppert said: "There are very few women running festivals - now we have [Lili Hinstin] running Locarno Film Festival which is good.
"You still hear too much that 'it's normal that men get paid more than women'. Anything that brings attention to women no matter what field it is - it's always good news."
Addressing the revelations of abuse, often towards women, that have come out of the industry in the last two years and the subsequent #MeToo campaign, Huppert said we must all keep working for change.
"There is so much to do yet" she noted. "It might change – let's give it a chance. I wouldn't call it a victory right now."
Huppert said she is "happy" for Roman Polanski that his film J'Accuse has been selected for competition at the Venice Film Festival. The inclusion of the director caused controversy last month, with some condeming the message it sends to host a film by the Swiss-based director, who was convicted of the statutory rape of a 13-year-old girl in 1977.
She also refuted the idea the rise of streaming giants such as Netflix and Amazon has substantially changed either the industry or her own work, saying she still choses her projects by the same process.
"The kind of movies I'm doing, I didn't have to face this kind of perspective," she said.
Huppert, who owns two cinemas in Paris called Christine 21 and Ecoles 21, maintained that the presence of these companies will not destroy the theatrical experience, despite occasional struggles for ticket sales.
"I'm not that pessimistic" she said. "Sometimes I go to the movie theatre, there are four people there, and I feel like an archaeologist. On the other hand, when I see the repertory cinemas I run with my family – right now we're having a bIg Dario Argento retrospective, and when you see full theatres and people attending, it gives you hope."
Huppert said she will not be shooting any new film projects until next year. She recently starred in Ira Sachs' Cannes Competition title Frankie and is currently touring on stage as Mary Queen of Scots in the 80-minute monologue piece Mary Said What She Said, running around Europe until November.
Huppert was at the Sarajevo Film Festival to receive an honorary Heart of Sarajevo award. The festival continues until August 23.