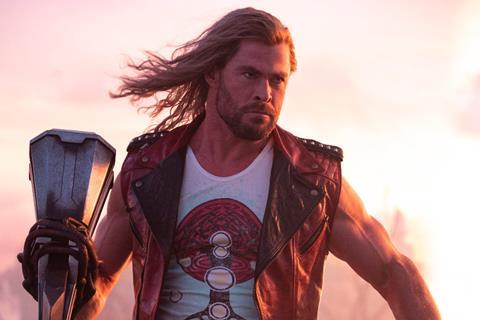 Admissions at the Italian box office are predicted to slump by 55% to 45 million in 2022 compared to the 100 million garnered in pre-pandemic 2019, according to Anec, an association of Italian cinema theatres.
However, this does represent an increase on the 28 million total admissions in 2020 and the 25 million in 2021 where cinemas were closed for 10 months out of 24 due to the Covid-19 pandemic.
Box-office receipts are expected to fall by 50% to €320m this year compared to €640m in 2019.
This is up from €169m in 2021 and €183m in 2020.
Covid mask mandates were only finally lifted in June this year. Simone Gialdini, director general of Anec, which represents 900 theatres, said signs of recovery have been evident since then.
"Blockbusters including Paramount's Top Gun: Maverick and Disney/Marvel Studios release Thor: Love And Thunder have led to a jump in attendance levels," said Gialdini.
Among the films being released in the last quarter of 2022 are Warner Bros' Don't Worry Darling, Universal's Halloween Ends, Marvel Studios' Black Panther: Wakanda Forever, Warner Bros' Black Adam, DIsney's Avatar: A Way With Water, and local title La Stranezza, which is being released by Medusa Film.
Energy price concerns
However, energy price hikes will also substantially impact Italian theatre operations and potentially trigger closures in the upcoming winter months, according to Gialdini.
"Some five to six percent of total Italian screens have closed since the start of the pandemic, but what actually really scares us is what will happen in the next few months in terms of the energy crisis and the effect soaring prices will have on theatre costs," he said.
"According to our preliminary calculations, the effects of energy cost on theatres and electricity need to be calculated with a three times multiplier, while theatre costs in terms of heating will likely suffer a four-fold multiplier effect, and these costs will kick in come the winter. It is frightening."