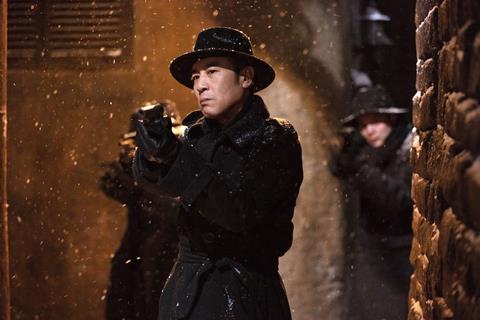 Italy's Far East Film Festival (FEFF), the Asian cinema event based in Udine, has revealed plans for this year's edition, which will comprise a mix of physical and online screenings.
The 23rd edition of the festival is set to run from June 24 to July 2, postponed from its original launch date of June 11 to align with the reopening of cinemas in Italy.
It will open with a physical screening of Zhang Yimou's epic spy thriller Cliff Walkers, which has proved a box office hit in its native China, taking $179m since its release there on April 30.
FEFF's online platform will have a separate opening title, launching with Herman Yau's Hong Kong action thriller Shock Wave 2, starring Andy Lau.
In total, the festival has selected 63 titles, of which six are world premieres, from 11 countries. World premieres include Jimmy Wan's Zero To Hero, a biopic of athlete So Wa Wai, who won the first Paralympic gold medal for Hong Kong; and Emily Chan's romantic drama Madalena, which marks the first film from Macau in FEFF's history and centres on two lonely immigrants find solace with each other.
The festival will also present the world premiere of satirical horror anthology Coffin Homes, by award-winning Hong Kong auteur Fruit Chan. It is set for release in Hong Kong through Edko Films in August.
The festival will will expand the number of locations for this year's event, adding three screens at the Visionario and two at the Cinema Centrale as well as an open-air cinema for 400 spectators on the Visionario's lawn to better comply with social distancing measures.
In another first, the festival will take films nationwide under the banner FEFF On Tour, screening four titles at 20 Italian cinema: two from last year's line-up, including Derek Tsang's Oscar-nominated Better Days and Lyao Ming-li's I WeirDO; and two from this year's programme, comprising Shock Wave 2 and Hamaguchi Ryusuke's Wheel Of Fortune And Fantasy, which won the jury prize at this year's Berlinale.
FEFF will also programme a focus on the late, prolific Filipino actor and director Eddie Garcia, screening four of his features, and a focus on Korean writer/director Yoon Jong-bin, whose credits include 2005 drama The Unforgiven.
On the industry front, FEFF will run Focus Asia as a digital and physical event; the Far East In Progress platform, dedicated to Asian films in post-production; Asia-Europe co-production workshop Ties That Bind, and the FEFF Campus film journalism school, run by veteran reporter Mathew Scott.
This year's Focus Asia will include the first edition of the Second-Hand Film Market, designed to showcase a selection of restored titles that are set for re-release.