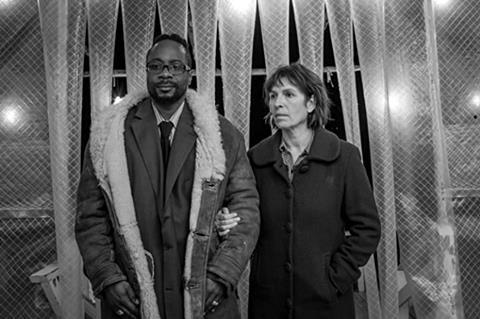 Director Ivaylo Hristov and producer Assen Vladimirov have won the Grand Prix for best film, for Bulgarian drama Fear, at Tallinn Black Nights Film Festival (PÖFF).
The event presented its awards in Tallinn, Estonia this evening. Hristov and Vladimirov share the €10,000 grant that comes with the win.
Scroll down for the full list of awards
They were awarded the prize by a jury consisting of Mark Adams, Mostofa Sarwar Farooki, Izabela Kiszka-Hoflik and Ester Kuntu.
The jury praised "a beautifully-made film that astutely balances dry humour with important contemporary drama. At a period when the subject of immigration is very much in the headlines this feature is very much a film for our times."
The best director prize of €5,000 went to Nisan Dağ for her German-Turkish co-production When I'm Done Dying. The film follows a 19-year-old aspiring rapper and drug addict who falls in love with an affluent DJ.
"The vision, passion and personality of the filmmaker shines through in this absorbing and striking new film that draws out terrific performances from its roster of non-professional actors," said the jury statement.
Noé Bach won best cinematography for filming Naël Marandin's French drama Beasts, about a woman who hopes to take over her father's farm, but attracts unwanted attention from a major investor.
Wang Yiao won the best first feature film award for Chinese title Great Happiness, an ensemble film following the ups and downs in the lives of three friends born under China's one-child policy.
A jury of Ulrich Thomsen, Elfar Adalsteins, Juris Kursietis, Diana Mikita and Rene van Pannevis praised "his strong social commentary of modern day China… The movie is told in an original, refreshing cinematic language."
In the Baltic Competition, best Baltic feature film went to Veiko Õunpuu for The Last Ones, which premiered at Helsinki Film Festival in September and is Estonia's entry for best international feature film at the 2021 Oscars.
Previously announced lifetime achievement awards went to German director Margarethe von Trotta and Canadian cinematographer Alar Kivilo.
The festival has defied Covid-induced shutdowns to near the end of its physical event, with screenings running until Sunday November 29. Earlier today it crowned its industry winners, with Lithuanian writer-director Eglė Vertelytė's second feature film Tasty winning the Screen best pitch award.
Tallinn Black Nights 2020 prizes
Official Selection – Competition
Grand Prix for best film – Fear (Bul) dir. Ivaylo Hristov
Best director – Nisan Dağ for When I'm Done Dying (Ger-Tur)
Best cinematography – Noé Bach for Beasts (Fr)
Best script – Leonardo António for Submission (Por)
Best actor – Ulrich Thomsen for Erna At War (Ger-Den-Est)
Best actress – Marie Leuenberger for Caged Birds (Ger-Switz)
Best music – Juanio Javierre for Armugan (Sp)
First feature Competition
Best first feature film – Great Happiness (China) dir. Wang Yiao
Special jury prize #1 – director Jan Holoubek for 25 Years Of Innocence: The Case Of Tomek Komenda (Pol)
Special jury prize #2 – writers Nora Martirosyan, Emmanuelle Pagano, Olivier Torres, Guillaume André for Should The Wind Drop (Fr-Arm-Bel-Neth)
Baltic Competition
Best Baltic feature film – The Last Ones (Est) dir. Veiko Õunpuu
Rebels With A Cause Competition
Rebels With A Cause award – Dinner In America (US) dir. Adam Carter Rehmeier / La Veronia (Chile) dir. Leonardo Medel
Rebels With Their Shorts award – Stories Keep Me Awake At Night (Bel) dir. Jérémy Van Der Haegen
FIPRESCI prize – Sententia (Rus) dir. Dmitry Rudakov
NETPAC award – Ulbolsyn (Kaz-Fr) dir. Adilkhan Yerzhanov
Ecumenical award – Armugan (Sp) dir. Jo Sol
Lifetime Achievement awards – Margarethe von Trotta, Alar Kivilo
Spotlight awards – Francis Annan, Armando Iannucci