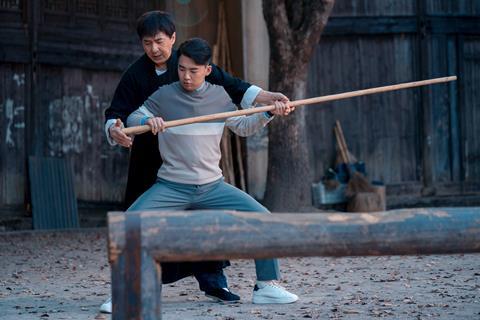 Hong Kong's Golden Network Asia has closed sales of upcoming Jackie Chan action feature Ride On in the US, Europe, the Middle East and Asia.
The film has sold to North America (Well Go USA), Germany (Plaion Pictures), Italy (Eagle Pictures), Eastern Europe, Benelux and Israel (SPI International), CIS (AN Media), Turkey (ATV), Middle East (Phars Film), Japan (Twin Co. Ltd), South Korea (Contents Panda), Malaysia (Shanghai Pictures), Singapore (Shaw Renters), Taiwan and worldwide airlines (Eagle International), Indonesia (Prima Cinema), the Philippines (Pioneer Films) and India (Indo Overseas Film).
The film was recently given a mainland China release date of April 7, coinciding with the action star's 69th birthday.
Larry Yang directs the Chinese feature, which stars Chan as an old stuntman who becomes a media sensation after a video of him fighting debt collectors alongside his trusty horse goes viral. The cast also includes Liu Haocun of Zhang Yimou's Cliff Walkers and Kevin Guo, who starred in Yang's previous feature Adoring.
Chinese director Yang's rural drama Mountain Cry was the closing film of Busan Film Festival in 2015 and his ensemble comedy Adoring made close to $100m at the box office in China after opening on December 31, 2019.
Produced by Victoria Hon, Yuan Nong and Belle Lau, Ride On is a co-production of Beijing Alibaba Pictures, Beijing Hairun Pictures, Zhe Jiang Heng Dian Film, China Film Company and Shanghai Foyeh Pictures.
Golden Network Asia has previously handled Jackie Chan titles including Vanguard, Kung Fu Yoga and Railroad Tigers and launched Ride On at last year's Cannes Marché.
The sales firm do not have a booth at the European Film Market and no representative in Berlin but will hold meetings online and are set to attend Filmart in Hong Kong next month.
The film acts as a tribute to the extraordinary stunts that made Chan's name in films such as Drunken Master, Armour Of God II and Police Story.
"In the heyday of kung fu movies, you fought for real, you risked your life by really racing a fast car and really riding a wild horse," said Chan. "The spirit was passed on from one generation to the next."
Director Yang said: "The story of a man and a horse depending on each other is really interesting. Moreover, the character Jackie plays this time is more down-to-earth than we've seen in his previous movies."