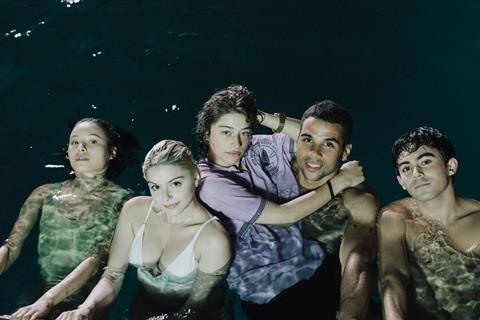 Jackrabbit Media has boarded international sales rights and will show first footage at TIFF this week from the coming-of-age film Pools starring Odessa A'Zion from Hellraiser, Ariel Winter from Modern Family, and Mason Gooding from the Scream franchise.
Michael Vlamis (Roswell: NM) and Tyler Alvarez (American Vandal) round out the key cast on writer-director Sam Hayes's story about a group of college students at summer school who embark on a pool-hopping adventure and learn about themselves along the way.
Mark Padilla, president of worldwide sales and acquisitions at Jackrabbit Media, will present footage. UTA Independent Film Group represents North American rights.
Jack Heston, Mike D. Ware, Adonis Tountas, Seth Savoy, and Hayes served as producers.
"Bringing Pools to life has been an incredible journey, and I couldn't be more excited to team up with Jackrabbit Media for the next phase," said Hayes. "Launching sales at the Toronto International Film Festival next week adds an extra layer of excitement to the project."
Jackrabbit Media CEO Jack Campbell added, "We are absolutely thrilled to be working on Pools and reuniting with the talented producer Jack Heston. The collaboration with Sam and the remarkable performances by Odessa A'Zion, Ariel Winter, and Mason Gooding make this film a standout addition to our slate. Pools is a testament to our commitment to delivering high-quality, impactful content that resonates with audiences globally."