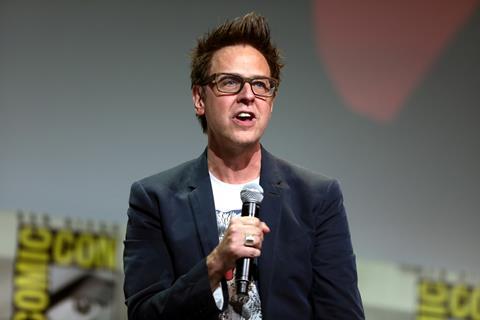 After plenty of speculation James Gunn has been confirmed as the director of DC Studios' upcoming tentpole Superman: Legacy, Warner Bros said on Wednesday (March 15).
The production will kick off the recently announced roster of connected DC Universe content called 'Chapter One, Gods And Monsters'. Peter Safran, who jointly runs DC Studios with Gunn, will serve as producer.
As previously announced the latest entry in the superhero canon is scheduled to open worldwide on July 11, 2025. Gunn will direct from his screenplay based on the character created by Jerry Siegel and Joe Shuster.
Superman: Legacy tells the story of Superman's journey to reconcile his Kryptonian heritage with his human upbringing as Clark Kent of Smallville, Kansas.
Safran has said before that the vision for Superman is "the embodiment of truth, justice and the American way, guided by human kindness in a world that sees kindness as old-fashioned".
No lead actor has been cast at time of writing. As previously announced Henry Cavill will no longer portray Superman due to the upcoming project's different direction.
2025 will be a big year for DC Studios. Matt Reeves' The Batman Part II is scheduled to open theatrically theaters on October 3 that year.
Safran's most recent film, New Line Cinema's Shazam! Fury Of The Gods, opens worldwide this week.