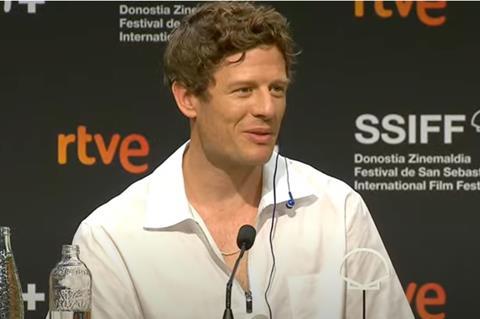 UK actor James Norton said that film crews are "making the ultimate sacrifice" during the Hollywood strikes while speaking at a press conference for Noah Pritzker's Ex-Husbands at the San Sebastian International Film Festival (SSIFF).
"Many many crew members are also suffering. There are so many people who are affected by this. Every single department - caterers, grips, sparks…It's a huge huge problem," Norton said. "And for them, not much is going to change. They're making the ultimate sacrifice on our behalf."
Pritzker's Competition film, which follows three generations of men experiencing marital issues, is an independent US production from MOD CMX and received a SAG-Interim agreement meaning, alongside Norton, other cast members Griffin Dunne and Miles Heizer were also in attendance.
"SAG have been very clear that we should be promoting independent movies, now more than ever," Norton went on to say in reference to the interim agreement. "This is what we want, we want to nourish that particular part of the industry and so coming and presenting this film and giving back to that particular sector of the industry is exactly what we should be doing right now."
Prtizker, whose debut feature Quitters premiered at SXSW in 2015, stressed how important the presence of the cast is to the film's sales. "This is a small independent film looking for distribution so to come here without the cast would have presented a whole other set of challenges," said the director, who also wrote the film. UTA is handling international sales on the title.
Dunne admitted that he personally wrote to SAG to ask if he could attend SSIFF. "I wouldn't have [promoted this film] without dealing with my union first. I wrote directly to SAG and asked their permission and they recognised this film did not have a distributor, was independently financed and really wasn't particularly relevant to the major issues that they were negotiating for."
Actors hurting
When asked about how the actors are coping with the strike, Dunne said: "It's been really tougher on younger actors and actors who are more journeymen, who live from one part in a series to the next and a lot of actors are really hurting."
Norton, who is also part of the UK's Equity union, chimed in to acknowledge the differences in opportunities in the UK. "I'm very fortunate to be able to continue to work and I feel immense gratitude for the huge sacrifices being made on the other side of the pond for all our sakes," Norton said.
Heizer, known for Netflix teen drama 13 Reasons Why, revealed he "felt good" about being at SSIFF to promote Ex-Husbands. "I'm not as nervous as Jessica Chastain," Heizer joked in reference to Chastain's comments about being at Venice during the strikes.