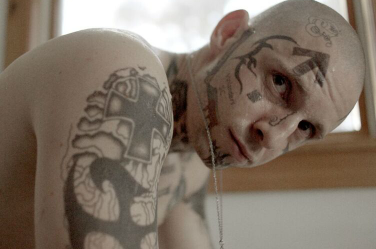 Voltage Pictures has closed key territories including the UK, Germany, France and Italy on the Jamie Bell skinhead drama and TIFF FIPRESCI winner Skin.
In a string of major deals on the Toronto world premiere that closed since Voltage launched sales at the AFM earlier this month, Lionsgate snapped up rights for the UK, Ascot Elite for Germany and Switzerland, The Jokers for France, and Sun Film Group for Italy and Poland.
Further deals closed in: Spain (Twelve Oaks), Japan (King Records), Baltics and Russia (Volga), South Korea (Contents Panda), Middle East (Front Row), South Africa (Filmfinity), former Yugoslavia (VTI), Greece (Spentzos), Iceland (Samfilm) Philippines (Captive), and airlines (Captive).
A24 / DIRECTV acquired North American rights to Skin in Toronto. Guy Nattiv directed the drama based on the life of Bryon Widner, in which Bell plays the former white supremacist who risked his life by turning his back on the skinheads who raised him and a life of hate and violence. Vera Farmiga and Danielle McDonald also star.
Maven Pictures' Celine Rattray and Trudie Styler produced alongside Jaime Ray Newman, Oren Moverman, Dillon D. Jordan, and Nattiv. Production companies include Maven Pictures, Sight Unseen Pictures, New Native Pictures, TUGAWOOD Pictures, PaperChase Films, Lost Lane Entertainment, Brookstreet Pictures, Come What May Productions, Allusionist Picture House, and Hua Wen Movie Group.
"Skin received multiple offers in all major territories and that is a testament to the power of Guy's challenging and necessary take on the triumph of tolerance and understanding over hate," said Voltage president and COO Jonathan Deckter. "We're thrilled the world is responding to Guy's film and more importantly, the message of hope and change that it delivers."
"I am so grateful to the Voltage Pictures team for their belief in Skin," said Nattiv. "We live in a time when hate crimes are at an all-time high (as reported this week by the FBI). Especially now when we are still mourning the loss of the 11 Jewish victims who were murdered in a synagogue, Skin is more timely and relevant than ever. I'm proud it will be seen around the world."