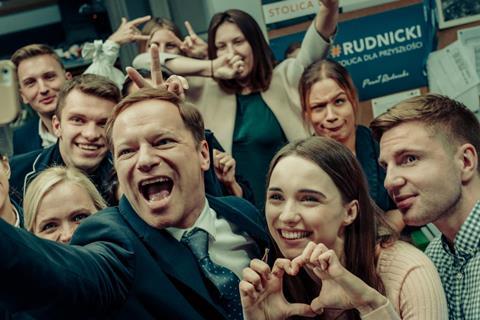 The Hater, Polish filmmaker Jan Komasa's follow-up to his Oscar-nominated Corpus Christi, was among Tribeca Film Festival jury prize winners announced on Wednesday (April 29).
Festival heads announced winners despite postponing this year's event, which was originally scheduled to run from April 15-26 in New York and may take place later this year in some physical form.
Alice Wu's The Half of It was honoured with The Founders Award for Best U.S. Narrative Feature, while Bo McGuire's Socks On Fire took the best documentary feature award.
Shorts awards went to No More Wings for best narrative short, My Father The Mover for best documentary short, Friends for best animated short and Cru-Raw for the Student Visionary Award. The Nora Ephron Award went to director Ruthy Pribar for her feature, Asia. Click here to read the full list of films and filmmakers honoured on Wednesday.
"We are fortunate that technology allowed for our jury to come together this year to honor our filmmakers," said Tribeca Film Festival co-founder and CEO Jane Rosenthal. "Despite not being able to be together physically, we were still able to support our artists, which has always been at the heart of the festival."
"While we are not yet able to celebrate these incredible films at their premieres, we are so proud to celebrate them in partnership with our generous jurors through our 2020 Tribeca awards," said festival director Cara Cusumano. "The jury chose to recognise a daring, innovative, entertaining, diverse group of films and filmmakers, and the Festival is pleased to honour all of them with our first ever virtual awards ceremony."
As announced in early April, select programming from the 2020 edition was made available online for the public, industry, and press.
Additional online programming will be announced in the coming weeks including Tribeca Talks @ Home, which debuted last week with Cinema360 discussions and will continue on May 3 featuring the creators of selections from the 2020 programme. Further information can be found here.