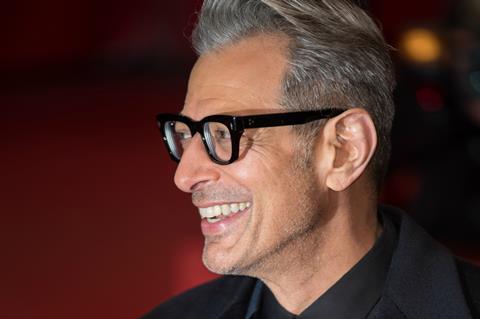 Jeff Goldblum, soon to be seen in Jurassic World: Fallen Kingdom, has joined The Price Of Admission alongside Michael Sheen and Michelle Monaghan.
Peter Glanz wrote and is directing the part-dramedy, part-existential thriller and Radiant Films International president Mimi Steinbauer introduced the project to buyers in Cannes last month. ICM packaged and handles US rights.
The Price Of Admission centres on a playwright (Sheen) in a mid-life crisis who submerges himself in an elaborate play about his life as a way of coping. The only person who understands his plight is his best friend (Goldblum), a behavioral psychologist dealing with his own mid-life crisis.
Glanz is a commercials director who directed the The Longest Week with Jason Bateman and Olivia Wilde as well as the short A Relationship In Four Days, which screened at Sundance and Cannes Critics' Week.
Neda Armian of Armian Pictures produces with Alex Foster and Glanz. Radiant Films International acquisitions executive Mike Dougherty brought the project to Radiant.
"The Price Of Admission is a brilliant, comedic dive into the mind of a playwright mounting a much anticipated play about his life while that life unravels around him scene by scene," Armian and Foster said.
"The combination of the incomparable Jeff Goldblum alongside mega talented Michael Sheen and the luminous Michelle Monaghan gives this film its cinematic heartbeat and we could not be more honored to collaborate with this team,."
"Peter is assembling the perfect cast to match his unique creative vision," Steinbauer added. "This type of fresh, innovative storytelling paired with the formidable talents of Michael Sheen, Michelle Monaghan and Jeff Goldblum will be a stand out project in the foreign market."